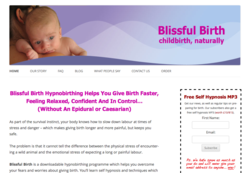 Giving birth has long been portrayed as a traumatic ordeal by the media, and the medicalisation of the birth process has left women feeling powerless and out of control
London, UK (PRWEB UK) 1 May 2013
Most women feel a little anxious about giving birth, especially for the first time, but for some childbirth can be intensely frightening and traumatic.
Women who experience a traumatic delivery in which they had severe pain or tearing or in which they witnessed their baby in serious distress often cannot face the prospect of a vaginal birth and want to have their baby by Caesarean section instead.
Rather than looking forward to the arrival of their baby, they have a morbid fear of pregnancy and the birth process. Labour wards can feel like 'torture chambers' and they feel their only option is to have a Caesarean section.
Studies show that in extreme cases, a small number of women abort their pregnancies rather than face the pain and trauma of childbirth.
For other women, the dread of childbirth starts in adolescence because of a traumatic birth they have seen or heard about - and this can lead to deep fears of hospitals.
Blissful Birth spokeswoman, Heidi Woodgate, says, "Giving birth has long been portrayed as a traumatic ordeal by the media, and the medicalisation of the birth process has left women feeling powerless and out of control."
"This feeling of being out of control just fuels fears of giving birth, and stress and fear about giving birth can become a self-fulfilling prophesy. It's no wonder that so many women want to take back control by having a Caesarian section - even though this is a serious operation."
"The Royal College of Midwives highlighted the need for fears to be recognised and dealt with more effectively at the end of last year, but what has been put in place?"
Blissful Birth is a downloadable hypnobirthing class created by husband and wife team, Rob and Heidi Woodgate. Both are Cognitive Hypnotherapists and members of the National Council for Hypnotherapy.
Research has shown that the calmer the expectant mother is, the more beneficial it is for the baby. Blissful Birth teaches expectant mothers how to stay relaxed and calm during pregnancy, labour and birth.
Blissful Birth also helps expectant mothers to understand what their body is going through and what to expect. It allows them to understand why their body is doing the things it is and helps them to keep in mind that childbirth is a natural part of life and it does not have to painful.
This programme has proven itself time and again to help expectant mothers have a natural birth experience, and it is an ideal partner to traditional antenatal classes.
Rob Woodgate is also the co-creator of the Hypnotension Programme, which helps people with high blood pressure.
The Hypnotension™ Programme looks at a variety of lifestyle factors to establish which is likely to be causing or maintaining high blood pressure (Hypertension). These lifestyle factors are then targeted using specific cognitive and hypnotherapeutic techniques to help reduce the clients blood pressure towards more normal levels.
Certified Hypnotension Practitioners are all fully qualified and insured hypnotherapy or NLP professionals, who meet the occupational standards for their country. The Hypnotension Programme is a hypnotherapy CPD course recognised by leading Hypnotherapy Professional Associations worldwide.