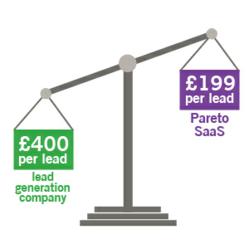 Sales as a Service (SaaS) completely de-risks recruitment...it brings businesses the best of both worlds, providing them with the people they need, where and when they need them, without the drawbacks typically presented by traditional recruitment models.
Wilmslow, Cheshire (PRWEB UK) 1 May 2013
Following a rapidly increasing trend towards outsourced sales solutions in response to a turbulent and unpredictable business marketplace, sales recruitment specialists at Pareto have introduced a new offering to the recruitment marketplace, designed to deliver outsourced solutions into business. The 'Sales as a Service'(SaaS) model is already proving to deliver results across a vast range of organisations in the 3 months since launch, with a total of 90 sales graduates now currently employed by the business and outsourced to other organisations across the UK.
"We first introduced the 'Sales as a Service' concept at the beginning of the year, building on our pre-existing sales recruitment outsourcing service. The steady increase in uptake we have seen over the past 3 months is a testament to the results it can deliver," explains Pareto Sales Director Mark Lendon.
"SaaS completely de-risks recruitment and allows our clients to spend budget they would not normally be able to spend on heads, offering the opportunity to try out candidates within their own organisation for as long as they want before making the commitment to employing them. It effectively brings businesses the best of both worlds, increasing revenue for the organisation and providing them with the people they need, where and when they need them, without the drawbacks typically presented by traditional sales recruitment models."
Many of the fundamental features which have made outsourcing attractive to the business market remain key selling points for the model, providing organisations with sales staff without adding to headcount or saddling the business with fixed overheads which could later prove costly. HR issues, salary and admin are all processed externally.
However, by contrast to typical outsourced sales recruitment solutions, each individual is brought into the organisation, sitting in as a member of their team and giving that client direct control of who is contributing to their sales function and what they are achieving. Each organisation has the capacity to pick and manage their additional sales people, whether seeking to recruit a single additional head or build an entire sales function, and 'try before they buy': removing a significant proportion of risk associated with sales recruitment. All sales candidates benefit from market-leading sales training as part of the SaaS package, and come fully equipped in the fundamentals before beginning their new role.
The model sets out to generate more appointments for less cost, ultimately generating more revenue for clients: from as little as £199/appointment, up to half the cost of many competitors within the market. As some of the UK's largest names in the business market jump onto the SaaS wagon, the concept is set for continued success.
Additional insight into the new SaaS model can be gained from the latest Pareto whitepaper, 'Sales as a Service,' available to download from the website now.
About Pareto Law:
Pareto Law is the UK's biggest and most successful sales enhancement company: the authority on sales, no less, since 1995. Pareto brings companies the 20% of the sales team that makes 80% of the difference.
The Pareto Effect can be experienced in many ways and it can have a remarkable, measurable effect on your business. Pareto delivers this effect through four key elements – Sales Recruitment, Sales Training, Executive Recruitment and Sales Enhancement, bringing your business sales assessment and accreditation solutions to deliver sales excellence.