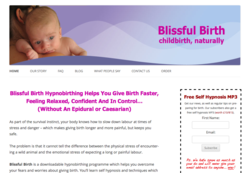 The current practice seems to be more for medical convenience and expedience rather than the best interests of the baby, so we are pleased to see NICE re-evaluating the guidelines
(PRWEB UK) 3 May 2013
Cutting the umbilical cord immediately after birth - currently standard practice in the UK - puts the baby at risk of iron deficiency, experts say.
Accepted practice is to accelerate the arrival of the placenta with an injection and clamp and cut the cord immediately.
A paper from the Royal College of Obstetricians and Gynaecologists stated that babies whose umbilical cords are clamped immediately have lower iron stores for up to six months.
Low iron levels have been linked to brain development problems.
The college recommends that the umbilical cord should not be clamped earlier than necessary and should always be based on clinical assessment of the situation.
Leaving the cord attached for a few minutes allows the blood in the cord to transfer to the baby. The suggestion is that the cord should not be cut until it has stopped pulsating naturally - anywhere between two and five minutes after birth.
The National Institute for Health and Care Excellence (NICE) says official guidelines are currently being examined it will publish new guidelines next year.
Blissful Birth spokeswoman, Heidi Woodgate, says, "The current practice seems to be more for medical convenience and expedience rather than the best interests of the baby, so we are pleased to see NICE re-evaluating the guidelines."
"We would like to see the so called assisted third stage being used only where there is a good medical reason to do so, rather than as a matter of course."
Blissful Birth is a downloadable hypnobirthing class created by husband and wife team, Rob and Heidi Woodgate. Both are Cognitive Hypnotherapists and members of the National Council for Hypnotherapy.
Research has shown that the calmer the expectant mother is, the more beneficial it is for the baby. Blissful Birth teaches expectant mothers how to stay relaxed and calm during pregnancy, labour and birth.
Blissful Birth also helps expectant mothers to understand what their body is going through and what to expect. It allows them to understand why their body is doing the things it is and helps them to keep in mind that childbirth is a natural part of life and it does not have to painful.
This programme has proven itself time and again to help expectant mothers have a natural birth experience, and it is an ideal partner to traditional antenatal classes.
Rob Woodgate is also the co-creator of the Hypnotension Programme, which helps people with high blood pressure.
The Hypnotension™ Programme looks at a variety of lifestyle factors to establish which is likely to be causing or maintaining high blood pressure (Hypertension). These lifestyle factors are then targeted using specific cognitive and hypnotherapeutic techniques to help reduce the clients blood pressure towards more normal levels.
Certified Hypnotension Practitioners are all fully qualified and insured hypnotherapy or NLP professionals, who meet the occupational standards for their country. The Hypnotension Programme is a hypnotherapy cpd course recognised by leading Hypnotherapy Professional Associations worldwide.