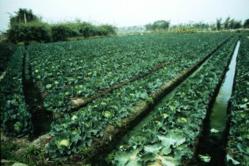 Agriculture Research Aggregator
Bad Honnef, Germany (PRWEB) May 01, 2013
ScienceAlerts.com is an innovative science website aggregating the latest Agriculture Research content in real-time. Besides this newly added category with 87,854 posts, it also features the basic and applied sciences of biology, environment, forestry, geography and health. Currently, 36,509 members are monitoring over 7,000 scientific publishing sources active in these fields and have contributed a total of 1,306,590 posts to the site. The latest additions to the site are featured on the frontpage as well as in a Natural Sciences and Agriculture Research RSS Feed.
ScienceAlerts.com's new Agriculture Research Aggregator Category covers the cultivation and production of crops, raising of livestock, and postharvest processing of natural products. It currently contains 87,854 posts in part stemming from 555 agriculture research journals. This category also provides a Agriculture Research Aggregator RSS feed which is the best way of staying updated with the latest contributions to this science discipline. One of the latest articles in this category covers the effect of preharvest fire on the small mammal assemblage in sugarcane fields. The authors of this study surveyed the small mammal assemblage in sugarcane fields from northern São Paulo state in Brazil. Their results indicate that small rodents are more abundant in plots where preharvest burning was still used every year, followed by areas where fire events were suppressed for 10 years. Another recently published article estimates net application of ammoniacal and organic N from manure, and the potential for mitigating losses of ammonia in Canada. From excretion to landspreading, the largest change in N concentration occurs because of volatilization of ammonia (NH3) from the ammoniacal and easily hydrolysable fraction. The authors present low-cost best management practices which could increase savings of 79Gg NH3-N per year or 26% of present emissions.
Following an upgrade in server hardware infrastructure, the site is now capable of aggregating more content in a shorter period of time. The current time-lag between original publication and appearance on the site is no longer than six hours and will be further reduced in the near future.