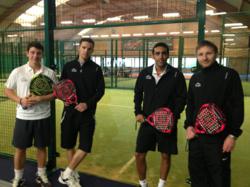 (PRWEB UK) 1 May 2013
David Lloyd Leisure, the first nationwide operator to bring padel tennis to the UK, is demonstrating its commitment to the development of the sport with the appointment of a top coaching team and as a venue host for a brand new tournament.
Tom Murray, Britain's no.2 ranked padel player, has been appointed padel manager to oversee the padel programme for Europe's premier health, sports and leisure group, which has invested £350,000 in six courts at its club in Chigwell, Essex, and Watford Bushey Club, Herts, with the capacity to roll out further. Tom will be supported by a coaching team for both clubs.
David Lloyd Leisure is also an official partner of the pro-am British Padel Tour 2013 and will be hosting matches at Chigwell on May 11-12 and Bushey on June 8-9.
The British Padel Tour, organised by the UK Padel Federation, has been created to encourage further growth in the UK of the tennis-squash hybrid that is played by an estimated 10 million people worldwide, with a significant following in Spain and Latin America.
Hazel Geary, David Lloyd Leisure's product development director, said: "Padel is a fast, sociable and fun sport for the whole family, which has proved incredibly popular at our Chigwell and Bushey clubs.
"We recognise the huge potential for padel here in the UK and our continued investment in facilities, programmes and a top coaching team demonstrates our commitment to being at the forefront of its development."
Tom Murray commented: "Padel is great sport to learn – there's a reason why 10 million people around the world enjoy playing it! From my experience, new players find padel easier to master than tennis and squash but equally as dynamic and exciting.
"I very much look forward to using the experience and expertise I have gained as a player to introduce padel to David Lloyd Leisure members and play a key role in David Lloyd Leisure's aims to grow this fantastic sport in the UK."
Note to editors: For further information about this press release, contact the David Lloyd Leisure press office on 01707 289833/4 or email press(at)davidlloyd.co.uk.
About David Lloyd Leisure Group
The David Lloyd Leisure Group operates 81 clubs in the UK and a further 10 clubs across Europe. It has over 420,000 members and employs 6,000 people. This includes an expert health and fitness team of over 1,800, while it contracts the services of more than 400 tennis professionals. Across all clubs, David Lloyd Leisure has over 150 swimming pools (of which half are indoor) and offers over 10,000 exercise classes per week. Every week 20,000 children learn to swim at David Lloyd Leisure and 14,000 learn to play tennis. Its racquets facilities are unparalleled with 700 tennis courts as well as 180 badminton courts and 140 squash courts. Additional facilities include health and beauty spas, club lounges with free internet access, crèches, nurseries and specialist sports shops.
About Padel Tennis
Padel Tennis is played in doubles indoors or outdoors on courts two thirds of the size of a traditional tennis court, padel is a mix of tennis and squash where the serve, using a padel bat, is underhand and the ball remains in play when it bounces off side and back walls. Invented in Acapulco, Mexico, in 1969 by Enrique Corcuera with the aim of stopping balls getting lost, it differs from paddle tennis, which has its roots in Manhattan. Padel became very popular among the elite in Mexico before catching on with Spanish royalty. By the early 70s, it had taken off in Madrid and the south of Spain where it was played in popular beach resorts and members' clubs before spreading to the masses. Prior to David Lloyd Leisure's investment in the sport, there were only four padel courts open to the public in England. A further two independent padel venues have opened.
About Tom Murray
Tom Murray moved to Spain from a young age to play tennis professionally. During his time there, he took up the popular sport of padel tennis. After competing on the ATP tennis circuit, Tom turned his hand to the Padel Pro Tour, and by the end of 2012 had achieved a world ranking of 326. Tom won the British Padel Open in 2012 partnered by fellow British player, Richard Brooks - together they are the highest ranked British team.