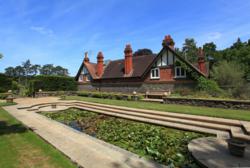 The Bracken Hill residents have access to a private garden which includes the former botanical garden's original beautiful lily pond.
Bristol (PRWEB UK) 1 May 2013
Businessman Melville Wills commissioned the estate in the late 19th century for his family, but during the Second World War the RAF used Bracken Hill as offices and in 1959 the University of Bristol based its botanical garden there, converting the buildings into offices and student accommodation.
Regional property developer Devonshire Homes is transforming the former Lodge House and Coach House Mews back into family residences. Paul Land, Managing Director, Devonshire Homes, explained: "Bracken Hill is an extraordinary location; not only are the buildings architecturally striking but they are set among the historic 19th century former botanical gardens. We fully appreciate the need for a sympathetic approach to the restoration and it is our intention to retain the charm of the properties while making sure they fulfil the needs of today's modern families."
The restoration follows the development of Overton Court; six luxury individual new build homes and two new build houses within the Walled Garden. All are set within the exclusive site and are currently being marketed from £1.375m through Savills of Clifton. Buyers will benefit from exclusive access to part of the historic gardens, which have also been restored as part of the overall redevelopment of the site.
Mr Land commented: "Interest remains high in the development as each new phase comes onto the market. Overton Court is already home to the first new residents and a further two new build homes within their own walled garden currently under construction, have already sold."
The Coach House Mews will be refurbished to provide three beautiful mews houses arranged around a courtyard. These unique three bedroom homes will have access to a private garden which notably includes the former botanical garden's original beautiful lily pond. The Lodge House will be an individual, refurbished and extended house with four bedrooms and its own private garden. It is scheduled to be the last building to complete during the autumn.
Mr Land stated: "This is a unique development that will see Bracken Hill restored to its former glory as a beautiful location to raise families."