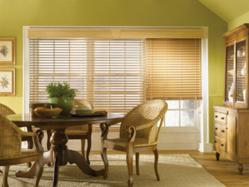 Mahwah, NJ (PRWEB) May 03, 2013
Faux wood blinds are made to be affordable and beautiful. Zebrablinds now offers the most discounted faux wood blinds made with the highest quality. These cheap blinds will not be some cheap imitations; they will have the finish and quality without the extra care needed for natural wooden blinds.
Natural wooden blinds look beautiful and elegant in a home, but need to be regularly polished for protection against UV rays and decay. Faux wood blinds have a similar elegant beauty as the Natural wood. However, these blinds only need the occasional dusting and maybe yearly polishing to stay unfaded from UV rays and decay. Also, faux wood blinds cost much lower than a full set of Natural wooden blinds.
Now with the new deals and even more discounted prices from Zebrablinds these blinds are cheaper than ever. And, though the prices are the cheapest that you will find, the quality of the blinds are maintained to the highest standards. Zebrablinds prides in providing clients with the cheapest priced blinds of the highest qualities. Look to zebrablinds.com for your low cost faux wood blinds.