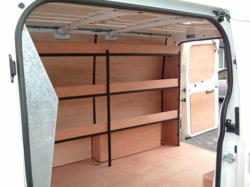 We are delighted to now be accredited, I'm sure it will be advantageous to Vanliners as many other van conversions companies won't have the accreditation just yet
Bolton, Lancashire (PRWEB) May 07, 2013
After three months of hard work and a rigorous examination process van conversions specialist, Vanliners are pleased to announce that as of May the 7th 2013 they have been awarded N1 status.
"We are delighted to now be accredited, I'm sure it will be advantageous to Vanliners as many other van conversions companies won't have the accreditation just yet. This means that some of our competition may not be able to carry out many vital tasks needed when completing van conversions," said Shaun Taylor, Sales Manager of van roof racks retailer, Vanliners.
"My team and I have worked tirelessly to gain N1 status. It has been a real team effort and has meant many early mornings, late nights and lots of travelling to gain it. I feel really proud that our company has been awarded" added the van roof racks fitter.
"The review board took in to consideration our ISO 9001: 2000 status which we have held since 1999. I feel it may have been even tougher if we weren't already ISO approved. I'm glad we had the foresight to apply for this award back then," said the specialist van roof racks supplier.
The European Parliament has recently updated the framework for the approval of motor vehicles and their trailers, and of systems, components and separate technical units intended for such vehicles.
Type Approval is a European Community (EC) directive, and in the UK is managed by the Vehicle Certification Agency (VCA). Type Approval or Certificate of Conformity is granted to a product that meets a minimum set of regulatory, technical and safety requirements.
Category 'N' vehicles are designed and constructed for use on the road, with or without bodywork having at least 4 wheels and a maximum design speed exceeding 25km per hour.
It is considered imperative and urgently necessary that the cabs of motor vehicles of category N do not exhibit sharp external projections to reduce the risk or the severity of injuries sustained by a person coming into contact with the external surface of the vehicle in the event of an accident. It also ensures that vehicle lights and number plates are clearly visible.
The Enhancements Scheme Process Document has been revised and new Type Approval processes came into effect on Monday 29th April 2013.
It only affects those that install or fix products to vehicles which are not registered with the DVLA and are less than 2 metres in height. To date all registered vehicles are not affected.
For the purposes of this Directive, "vehicle" means any motor vehicle intended for use on the road, with or without bodywork, having at least four wheels and a maximum design speed exceeding 25 km per hour, and its trailers, with the exception of vehicles which run on rails. Some agricultural vehicles are also exempt.
ISO 9001:2000 specifies requirements for a quality management system where an organization:
Needs to demonstrate its ability to consistently provide product that meets customer and applicable regulatory requirements, and aims to enhance customer satisfaction through the effective application of the system, including processes for continual improvement of the system and the assurance of conformity to customer and applicable regulatory requirements.
All requirements of this International Standard are generic and are intended to be applicable to all organizations, regardless of type, size and product provided.
"We are due to re-brand our vehicles shortly. This will include four fitter's vans which will have a vehicle wrap applied and proudly display our ISO logo and N1 accreditation graphics" said the van racking retailer.
"We were due to re-brand our vehicles any way as it is a common myth that we only ply line vans. There is much more to our business than just ply lining, van racking also makes up a large part of our turnover," added Mr Taylor.
"We've added all the many services we offer as graphics on our fitter's vans (which are Fiat Ducatos). This is being done to help educate our potential and existing customers that if there is anything they need (which is van related) we can probably supply and also fit it," commented Shaun.
Established in 1999, Vanliners has grown rapidly and become the market leader in van lining, offering a varied range of quality vehicle related products on a national and local basis.
Vanliners supply all types of businesses. They range from plumbers, builders and electricians as well as many other types of tradesmen. Vanliners also supply larger companies and councils who own fleets of vans.
Many of their products can be bought online in kit form or alternatively they can be fitted at their Bolton based workshop.