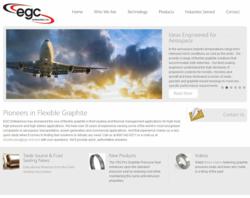 It's a bold site and one that's really easy to navigate.
Chardon, OH (PRWEB) May 07, 2013
EGC Enterprises, Inc., a worldwide manufacturer of severe service, flexible graphite products and materials for sealing and thermal systems applications, has developed a new website that includes an extensive amount of product and material information designed to help customers and prospects in their quest for flexible graphite solutions. Company information, technical data and videos work together to provide a detailed overview of EGC's capabilities across a wide range of high temperature fluid sealing and thermal management applications.
The new site is divided into four categories. "Who We Are" is designed for prospects to explore the history of the Company, the story behind Flexible Graphite, dedication to quality and biographies of key personnel. The "Technology" chapter focuses on prospects and customers while taking a look at when it is beneficial to use flexible graphite, EGC's "leading edge" innovation and creativity, the making of Thermafoil (an EGC Brand) and looks at the company's core competencies. The "Products" section is designed for aftermarket customers who are looking for EGC supplied materials or a range of high temperature flexible graphite or composite seals, packing's or gaskets. The "Industries Served" section is developed for first time engineers who are new to flexible graphite and reviews ideas for applications within fluid sealing or thermal management.
The site includes videos on installation of products as well as an overview of the company, ISO-9001, and AS-9100 quality certificates, a range of corporate US Patents and a host of industry magazines for visitors to get the latest in news. In addition, there are forms and data sheets related to specific products and the opportunity to "connect" with those both in and outside of your company via social media and a special e-mail link.
Said Jeff Bernthisel, Vice President of EGC Enterprises, "the site is really easy to navigate with unique sections designed for OEM engineers, aftermarket services and end users as well as top management. It's a very bold look compared to our last site and one that we'll use as a template for adding a range of product information and new features as they come along."
The site can be accessed at http://www.egcflexiblegraphitesolutions.com or through http://www.egc-ent.com.
Corporate Profile
EGC is a recognized world leader in the engineering and manufacturing of graphite composites for high temperature applications in sealing or thermal systems management.