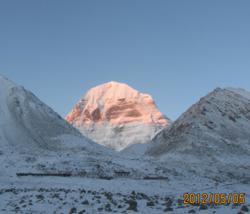 Are you still looking for a budget Kailash travel? Local Tibet travel agency www.tibetctrip.com offers the golden chances now.
(PRWEB) May 01, 2013
Travelers wanting to take Tibet budget tour often feel they have very limited choices. Tibet travel agency TCTS is now making it possible for travelers to select from different low budget tours. Gone are the days of being packed onto a crowded bus with 20-30 other travelers, TCTS matches small travel groups with other small travel groups with similar itineraries. TCTS offers optional new budget Tibet tour itineraries to top destinations including:
Lhasa city travel: tour groups will spend 4-5 days learning about Tibetan history and culture on a sightseeing tour of Lhasa and the surrounding area. Travelers can choose from a variety of itineraries that include world-famous sites such as Potala Palace, Jokhang Temple, and Barkhor Bazaar. This tour is great for travelers who have a tight schedule but don't want to miss out on visiting Tibet.
Tibet Mt. Kailash Pilgrimage Tour: For people who seek an in-depth Tibetan culture travel experience set amongst Tibet's unparalleled natural beauty, a pilgrimage trip to Mt. Kailash is perfect. Mt. Kailash is a sacred place for Hindus, Tibetan Buddhists, and Bon; thousands make the journey each year to pay homage to the mountain and purify their souls. Travel groups will embark on the three-day trek around the base of Mt. Kailash where they can engage with pilgrims and learn about many different cultures.
Everest Base Camp Tour: After sightseeing and acclimatizing to the altitude in Lhasa, travel groups will set out for Mt. Everest. Over the two-day drive the tour stops in Gyantse, to visit Kumbum Pagoda and Pelkhor Monastery, at Lake Yamdrok, and in Shigatse, home of Tashilhunpo Monastery. Travelers will reach Everest Base Camp in the afternoon and will have the opportunity to rest, relax, and enjoy an overnight stay in one of the tent camps. Travelers will have a chance to catch early morning views of the mountain before returning to Lhasa.
By matching small travel groups with other small travel groups, TCTS makes budget Tibet tours to top destinations possible for all kinds of travelers. Travelers can enjoy a lower price while avoiding the hassles of large groups' tours; travelers can have more one-on-one time with their Tibetan travel guide and enjoy a more flexible tour schedule. With the travel season upon us, travelers are encouraged to plan ahead and book their tour soon.