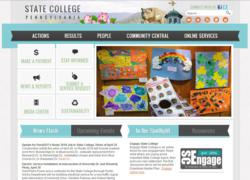 MANHATTAN, Kan. (PRWEB) May 01, 2013
In the Borough of State College, Penn., digital community engagement isn't just a "nice-to-have," it's an expectation.
But with a diverse population running the gamut of college students attending Penn State University to retirees, that expectation doesn't just start with the citizens – it's driven home by leaders within the Borough's organization.
"There is a stigma that local government lives in the past," said Hillary Pasch, IT Project Manager for the Borough. "But many are forward-thinking, and we want to improve our interaction online and show that we're making an effort.
"We're always asking, 'How would our residents like us to communicate with them?' Those are the things we're searching for."
State College recently underwent a website revitalization with CivicPlus, the leading developer of government websites and community engagement platforms. The two organizations first partnered in 2005 to redevelop the Borough's website, and in 2011 launched an initiative to redesign the site aesthetically and functionally.
The new site went live in August 2012, and since then, Pasch and Courtney Hayden, Communication and Special Projects Coordinator, have teamed together to use the site to consistently offer more services and increased transparency online.
Their goal: use the website to leverage community trust and continuously introduce new ways to capture more of it to meet their goals as a civic organization.
"It goes back to being able to provide the highest level of service to your residents," Hayden said. "I feel like our government is highly trusted, and that's why you do community engagement – to increase trust. Our projects and our website reflect that commitment."
Digital community engagement is a local government's response to residents' expectation of government transparency, 24-7 access to channels for open dialogue and participation on issues important to the community in an online environment.
On State College's website, digital community engagement takes on the form of social media integrations and a robust media center section that features news, videos, photo galleries, live streaming video and ePostcards, among other services. The Borough also heavily utilizes CivicPlus' Citizen Request Tracker module for citizen requests and concerns, the News Flash module to send out email and text notifications and Form Center for everything from submitting story ideas for the neighborhood newsletter to contacting elected officials.
State College's website ranks at a "high 5" on CivicPlus' 6 Stages of Digital Community Engagement scale, which assesses how well a community or government organization is engaging the public through services offered online. And since the Borough began working with CivicPlus, the website has gone from roughly 500 visits per day to more than 1,000.
"It's so great that we have all these tools automatically integrated into the system," Pasch said. "We are trying to downsize all the separate software programs that we have and consolidate so we're not using 20 programs, and CivicPlus has been good about developing new modules to help with that. The system offers a lot that we haven't even touched on, but we're evaluating."
State College has made use of the information provided by the Digital Citizen Engagement Survey conducted by CivicPlus, which surveyed local government website usage of more than 5,600 citizens across the United States and Canada.
When presented with the statement, "Your local government provides reliable, trustworthy information about public services through its website," 21 percent of citizens surveyed said they agreed completely, with another 42 percent saying they somewhat agree.
Also, in response to the statement, "The more digital transactions that are available on your government site, the more likely you are to interact with your government," 34 percent said they somewhat agree, and 37 percent said they agree completely.
For Hayden and Pasch – and the Borough of State College as a whole – they believe the momentum for the betterment of their community can grow through the use of digital tools, because these tools help local governments reach a broader demographic.
"Our borough manager always presses on us that when we interact with the public, we need to be courteous, knowledgeable, polite, helpful and informative," Hayden said. "And we have a real commitment to making our website an extension of that. We want that online experience to be just as engaging and useful – with the ability to get things done – as the in-person interaction.
"We're seeing the positive feedback, too. Community engagement gets better if residents trust you, and the website plays a major role in building that trust."
About CivicPlus
Based in Manhattan, Kan., CivicPlus has designed more than 1,300 local government websites serving over 50 million citizens throughout North America. A recipient of the Center for Digital Government's Best Fit Integrator Award for delivering extraordinary digital solutions to public IT projects, CivicPlus transforms municipal websites into powerful two-way communication platforms that let citizens talk to and participate in local government. Find out where your community falls on the digital community engagement scale developed by CivicPlus eGov experts. In 2013, CivicPlus will invest nearly $2.5 million in products, research and development. The innovative CivicPlus Government Content Management System (GCMS™) now offers more than 60 applications including Citizen Request Tracker, MuniMobile, Facebook and economic development tools. Founded in 2001, CivicPlus was selected by Inc. Magazine as "One of the Fastest-Growing Privately Held Companies in the U.S." in 2011 and 2012. For more information visit http://www.civicplus.com.