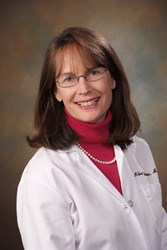 Berkeley Heights, NJ (PRWEB) May 02, 2013
Alice B. Gibbons, M.D., FACOG, Summit Medical Group obstetrician/gynecologist, was honored by the Boy Scouts of America, Patriots Path Council, Summit, as a 2013 "Good Scout." Dr. Gibbons was recognized at the annual Summit Good Scout Award Dinner, April 25, at the Grand Summit Hotel.
The Good Scout Award recognizes individuals who exemplify the spirit of the Scout Oath and Law by helping others and doing their best at all times. This prestigious award honors those whose personal and public contributions enhance their communities and the world.
Dr. Gibbons was honored as a "Good Scout" for several of her volunteer activities. She served for 10 years as a Cub Scout Leader and for the past five years, as a Merit Badge Counselor. Additionally, Dr. Gibbons has taught First Aid and other health-related requirements to scouts, for rank advancement. She has also assisted with the Boy Scout Food Drive and has organized outdoor activities for the scouts, such as whitewater rafting trips to Vermont.
Dr. Gibbons practices at Summit Medical Group's 1 Diamond Hill Road location.
ABOUT SUMMIT MEDICAL GROUP
Summit Medical Group (SMG) is the largest privately held multispecialty medical practice in New Jersey. SMG maintains a 42-acre healthcare campus in Berkeley Heights and 21 additional practice locations in Berkeley Heights, Hillsborough, Morristown, Millburn, Short Hills, Springfield, New Providence, Warren, Westfield and West Orange. As an East Coast premier multispecialty group, SMG has provided exceptional primary and specialty care since 1929. For more, visit summitmedicalgroup.com.