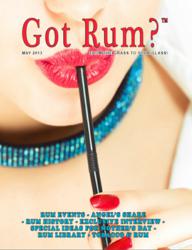 From its launch in May of 2001, 'Got Rum?' has been the world's first and only monthly publication devoted solely to rum
Round Rock, Texas (PRWEB) May 01, 2013
The magazine is available in electronic format (PDF) free of charge through the magazine's official website. It can also be purchased in printed form for USD $6.60, plus shipping and handling. The printed version of "Got Rum?" is produced with FSC-certified paper, which means the paper comes from responsibly managed forests and verified recycled sources.
Here is a preview of what readers will find in the May issue:

From the Editor- "Alembic Allure" by Luis Ayala.
The Angel's Share- Featuring Bacardi Pineapple Fusion (70-Proof), review done by Paul Senft and The Lash Spiced Rum (70-Proof), review done by Margaret Ayala.
Mother's Day Special- 4 ways to pamper Mom on her day by Margaret Ayala.
Rum Event- Interview with Mr. Javier Herrera, Director of II International Rum Conference, Madrid, Spain.
Exclusive Interview- Interview with Cellar Master, Mr. Charles Roberts, with La Favorite Distillery in Martinique.
Rum in History- A timeline of what happened in the month of May throughout history from 1502– 1832.
Rum Library - Review of "Rum & Contemporary Cuisine" written by Carlton Grooms and Geoffrey Blythe.
Pairing Tobacco & Rum –Mr. Philip Ili Barake brings us "The Sweetest Thing," featuring: Hacienda Saruro Rum Liqueur from Venezuela and a Vintage 2003 Vitola Coronas Cigar by Sancho Panza from Cuba.
From its launch in May of 2001, "Got Rum?" has been the world's first and only monthly publication devoted solely to rum. It has been responsible for educating consumers and industry members alike, by publishing interviews with industry members, exclusive material from The Rum University, product reviews and much more.
"Got Rum?" magazine and The Rum University are fully-owned subsidiaries of Rum Runner Press, Inc., the leading rum consulting specialist in the world.
For additional information, please send an email to: Margaret (at) GotRum (dot) com