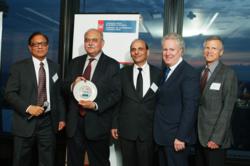 Toronto, CA (PRWEB) May 03, 2013
The Canada India Business Council (C-IBC) is pleased to host Secretary Sudhir Vyas from the Indian Ministry of External Affairs for an exclusive reception and dinner.
The event is being held in partnership with the India Institute of Technology Alumni in Canada and with the sponsorship support of McCarthy Tetrault LLP.
Introduced by the Honorable Jean Charest, Secretary Vyas pinpointed three pillars for Canada and India to build on:

Energy: India currently imports 65-70% of its hydrocarbons from the Gulf region and is looking to diversify its sources. Canada`s oil and Liquefied Natural Gas (LNG) sector as well as Canadian expertise in fuel cells, smart energy grids and energy efficiency technologies respond to India's needs.
Food Security: Large Canadian exports of lentils and pulses are important to India. But India also needs Canadian expertise in diverse food processing and the infrastructure chain that supports high quality agricultural production.
Trade & Economic Co-operation: The Comprehensive and Economic Partnership Agreement (CEPA) and the Foreign Investment Promotion and Protection Agreement (FIPA) are progressing and will provide the architecture to support the growing Canada-India business relationship.
The event was attended by almost a hundred senior business and government officials.
"Canada and India are steadily moving towards an expanded and integrated bi-lateral relationship. Opportunities such as this evening, help provide C-IBC members as well as the larger Canadian business community, with the first hand perspective and insight needed by them to succeed in their business with India." said Peter Sutherland, President & CEO of the C-IBC.
Interview Opportunities:
Peter Sutherland, President & CEO of the Canada India Business Council is available to provide additional comment and analysis on these remarks as well as the current state of Canada-India relations & the opportunities ahead.
Membership
For more information on how your organization can benefit from joining the C-IBC network, please contact:
Belle Serio
Director of Operations
Canada India Business Council
T: 4162145947 x 21
About C-IBC:
About the Canada-India Business Council: The Canada-India Business Council (C-IBC) was founded in 1982 by the Bank of Nova Scotia, Bombardier and the late Thomas Bata. For almost 30 years, C-IBC has been the leading, bi-national member driven association dedicated to the sustained growth of trade, investment and services between Canada and India. C-IBC works to assist Canadian organizations by offering knowledge, experience and insight on bilateral trade and investment opportunities. With over 100 members, the C-IBC represents the leading companies in the Canada-India business corridor.
The C-IBC is governed nationally by a Board of Directors which is comprised of senior executives from Canada's leading organizations as well as leaders from both small and medium-sized enterprises. C-IBC is headquartered in Toronto with operations in Delhi, Vancouver and Montreal.