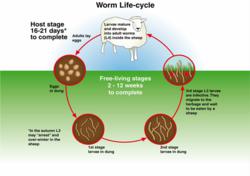 "Nematodirus is a nasty parasite it can stunt growth and can kill a lot of lambs..."
(PRWEB UK) 2 May 2013
After the cold snap farmers could be devastated by the warm Spring.
The recent cold weather has crippled some sheep farmers with ewes suffering from abortions while new-born lambs have been unable to get enough milk from their distressed mothers. The length of our winter with heavy snow and blizzards has caused an estimated 10% of stock to be lost on hill farms according to some reports. Farmers have been looking forward to the warmer weather but this could be deadly as it is precisely these changes in temperature from cold to warmer temperature that could trigger nematodirus a parasite which can be devastating for lambs.
Darren Walton farmer and manager of Hyperdrug warns of the dangers.
"Nematodirus is a nasty parasite -- it can stunt growth and can kill a lot of lambs. The key factor can be the weather, for the eggs to hatch they have to be exposed to cold weather and then warmer temperatures of over 10 degrees centigrade. Right now could be perfect conditions."
Scops which stands for sustainable control of parasites is an organisation that advises on strategy and technique for parasite control has issued some risk factors:

Lambs grazing pasture that carried lambs the previous spring
A sudden, late cold snap which is followed by a period of warm weather
Lambs that are old enough to be eating significant amounts of grass (6–12 weeks old)
Groups where there is also likely to be a challenge from coccidiosis
Lambs that are under other stresses e.g. triplets, fostered, on young or older ewes.
The timing of a potential problem will vary from region to region. In the south of England for example, it is likely to occur earlier in April/May; in northern England and Scotland it may be early June.
Any farmers that think their lambs are at risk can treat with white drenches such as Endospec, Albenil or Ovispec all of which also contains selenium and cobalt so are ideal for use in areas where sheep are likely to suffer deficiency in these trace elements. If using Parafend it is suggested that for effective treatment and prevention of nematodirus you dose twice at three weekly intervals. Traditional benzimidazole treatments are also available. Zerofen comes in a 2.5% concentration or for extra value and a lower volume drench containing fenbendazole there is Panacur 10%.