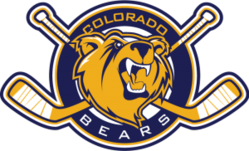 Our mission is to create and foster an environment where young hockey players can have fun, learn, and prosper at and through playing the sport of ice hockey.
(PRWEB) May 01, 2013
The Greeley Youth Hockey Association (GYHA) has teamed with the University of Northern Colorado Hockey Club, City of Greeley, Garretson's Sports Center and Weld Food Bank to host 'Skate with Bears' on May 11, 2013 at the Ice Haus in Greeley, Colorado. This fun ice hockey scrimmage is open to all youth hockey players age 7 to 18. While the event is free and open to the public, each player is asked to make a donation of nonperishable food, or a $10 donation, to the Weld Food Bank.
The 'scrimmage' will be divided into age group sessions, starting with Midgets/ Bantams (age 12-18) at 4:15 pm, followed by peewees (age 10-12) at 5:00 pm, squirts (age 9-10) at 5:45 and Mites (age 8 and under) at 6:30, and will include players from the UNC Bears team and coaches from GYHA.
The afternoon will also feature equipment giveaways, autograph sessions with UNC players and information for youth and parents interested in getting involved with Greeley Youth Hockey.
"Skate with Bears promises to be a fun family event, and for a good cause," said Steve Noe, newly-elected president of GYHA. He continued, "We're excited about the commitment the UNC players have made to the youth program and what it means going forward."
Throughout the 2013-14 youth hockey season, UNC players will be donating their time to help aspiring young players reach their goals. "As a team we believe in giving something back to the community, and to the game," said Thomas 'Tripp' Wheat, current UNC Bears head coach, player and student.
"Greeley Youth Hockey is seeing a resurgence of energy and enthusiasm. It's a great program for families and we're looking forward to expanding our offerings next season," said Steve Gonser, GYHA parent and volunteer. "This event is an 'open house' for all youth players to come out, play some hockey with friends and UNC players, have some fun and support the Weld Food Bank," said Gonser.
During the 2012-2013 season, GYHA coach and UNC alumnus Justin Howard helped establish the link between GYHA and Weld Food Bank. "We're a hockey club, but we're also about helping players learn about community and commitment," said Howard. Coach Howard, his team and parent volunteers spent several days working at the Weld Food Bank warehouse and distribution center this winter.
While Skate with Bears is a fun event, players are reminded to bring and wear their full gear while on ice.