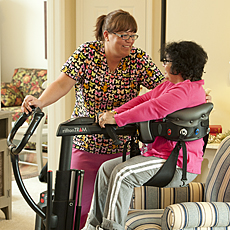 The TRAM is the product I've waited twenty years for; it does all the things I want it to do.
Rifton, NY (PRWEB) May 02, 2013
Rifton Equipment announced recently that the Rifton TRAM has been selected as a finalist in the 15th Annual Medical Design Excellence Awards competition. Rifton, a complex rehab equipment company located in New York's Hudson Valley, has designed and manufactured adaptive equipment since 1977.
The Rifton TRAM, a transfer and mobility device, was introduced by Rifton in July 2012 to answer the growing need for a simple, lightweight transfer and gait training device in hospital early mobility programs and physical therapy departments, particularly for patients recovering from traumatic brain or spinal cord injuries. In addition, the TRAM is finding wide acceptance in care homes for the elderly and those with developmental disabilities. Operable by one caregiver and requiring no lifting assistance, the TRAM allows for transfer out of bed and into a standing position, then supports partial or even non-weight-bearing gait training. A scale option on the lifting column allows a therapist to monitor weight-bearing ability and chart improvement.
After using the TRAM with several of her clients, a physical therapist in Ohio told Rifton, "I work with students with severe, profound disabilities in a special school and am often asked to recommend equipment and write letters of medical necessity. The TRAM is the product I've waited twenty years for; it does all the things I want it to do. It has been useful in programming with multiple students, and its ease-of-use and adaptability are excellent."
The Medical Design Excellence Awards is the industry's premier design awards competition and the only awards program exclusively recognizing contributions and advances in the design of medical products. Entries are evaluated on the basis of their design and engineering features, including innovative use of materials, user-related functions improving healthcare delivery and changing traditional medical attitudes or practices, features providing enhanced benefits to the patient, and the ability of the product development team to overcome design and engineering challenges so the product meets its clinical objectives.
A comprehensive review of the entries was performed by an impartial, multidisciplinary panel of third-party jurors with expertise in biomedical engineering, human factors, industrial design, medicine, and diagnostics.
Clare Stober, Rifton's Creative Director, said, "Rifton's team of designers spent over 30 months developing the Rifton TRAM but the payoff was almost immediate: within weeks of product launch the accolades starting pouring in and we knew we'd hit a home run. Aware of the prestige attached to a Medical Design Excellence Award, we decided to enter the TRAM. We have already begun displaying our 2013 Finalist status as a badge of honor. Winning Gold would be enormously gratifying after all the thought and effort that has gone into the TRAM."
Finalists in each of the competition's ten categories were officially announced in the April issue of Medical Device and Diagnostic Industry magazine. The winners will be announced on June 19, 2013, during a cocktail reception starting at 4:30 pm at the Marriott Hotel in downtown Philadelphia. The ceremony will be held in conjunction with the 30th MD&M East event at the Pennsylvania Convention Center, June 19, 2013. MDEA-winning products will be honored at the ceremony with Bronze, Silver, or Gold-level awards in each category. One Gold-winning product will be awarded 'Best-in-Show'.