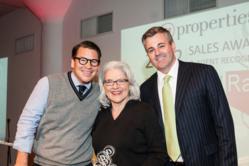 2012 was our strongest year ever. It was also a breakthrough year for a lot of brokers who kept their eye on the ball during some really tough times.
(PRWEB) May 01, 2013
Chicago real estate firm @properties recently honored more than 170 top-producing brokers at the company's annual @awards, recognizing outstanding sales achievement in 2012. The awards reflected a record year for @properties, which was the largest residential brokerage firm in the city by transactions and sales volume, and the second-largest and fastest-growing brokerage firm on the North Shore.
Brokers received honors in more than 30 categories including: Most Improved Agent; Rookie of the Year; Largest Transaction; Best Team Player; Development Division Outstanding Achievement; and Top Producer for Closed Listings, Closed Volume, and Buyer Brokerage. One hundred seventy @properties brokers or broker teams produced over $5 million in closed sales volume in 2012, 40 topped the $10 million mark, and 26 exceeded $20 million.
@properties also presented its prestigious Road to Rolex award to a record 28 brokers and broker teams, who achieved a minimum of $10 million in annual closed sales volume and $250,000 in gross commission income for their first time with the firm. Winners included: Alley Ballard, Andra O'Neill, Bob Safranski, the Cam Benson/Jill Cunningham team, Chris McComas, Chris Mundy, Debbie Scully, Jan Hazlet, Janice Goldblatt, John Huebner, Jordan Shackelford, Karen Fata, Kathleen Buffington, Kim Kelley, Landon Harper, Mark Baetzel, Mary Grant, Melissa Edidin, Mindy Shea, Phil Byers, Phil Skowron, Sarah Maxwell, Stephanie Sadoff, Steve Hnatow, Tom McCarey, Tricia Fox, Vicky Keene and Waveland Kendt.
According to tradition, @properties also gave a Rolex to an outstanding staff member. This year's recipient was Mark Brewer, director of infrastructure services.
"2012 was our strongest year ever. It was also a breakthrough year for a lot of brokers who kept their eye on the ball during some really tough times. And 28 Rolexes…that's some bling! The jeweler was the happiest man in the room," said @properties co-founder Thaddeus Wong.
"This year's awards reflect @properties' commitment to attracting the best real estate agents in the city and on the North Shore," added @properties co-founder Michael Golden. "It was a record year for us, and we're looking forward to an even better 2013."
@properties posted its highest sales volume in company history in 2012, with sales of more than $3 billion.
About @properties
Established in 2000, @properties is the No. 1 Chicago real estate broker by market share and currently the second-largest residential brokerage firm in Northern Illinois. The company has offices in Evanston, Winnetka, Lake Forest, Highland Park, River North, Streeterville, Lincoln Park, Bucktown, Uptown, Lakeview and New Buffalo, Mich. A Glenview office is opening in Summer 2013. For more information, visit http://www.atproperties.com.
# # #