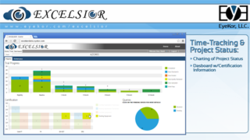 "EXCELSIOR™ is unique: No other software leverages data from such a wide variety of ophthalmic instruments while providing such a transparent workflow and ease of access." -EyeKor CEO Christopher J. Murphy, DVM, PhD
DAVIS, CA and MADISON, WI (PRWEB) May 03, 2013
EyeKor, LLC, a new service provider dedicated to the support of ocular clinical trials, announces FDA 510k clearance of its EXCELSIOR™ image management software as a class 2 medical device, with indications for use specifically for managing ophthalmic clinical trial data. A first-of-its kind web application, EXCELSIOR™ employs a unique cloud-based architecture to enhance efficiency and accuracy in the collection and interpretation of data from ophthalmic clinical trials. EXCELSIOR™ provides a framework in which images from multiple imaging modalities can be reviewed and analyzed concurrently.
According to EyeKor CEO Christopher J. Murphy, DVM, PhD, "EXCELSIOR™ is unique: No other software leverages data from such a wide variety of ophthalmic instruments while providing such a transparent workflow and ease of access."
Murphy continues: "EyeKor's unique relationships with nationally recognized reading centers position it to support EXCELSIOR™ by harnessing the expertise of multiple reading centers with a broad range of functionalities." These include fundus imaging, corneal imaging, visual field assessment, and electrophysiology—all of which can be viewed and assessed from within the unified EXCELSIOR™ platform.
EXCELSIOR™ provides investigators, clinical trial sponsors, and data managers secure, real-time access to their data and lets them follow its progress through each workflow stage—collection, quality analysis, grading, and interpretation—through a browser interface. The platform is supported by Reading Center trained staff and technicians, who provide certification, clinical site support, and quality analysis of the images—with all analysis and grading harmonized by the EXCELSIOR™ custom viewer that features image-enhancement tools specifically configured for ease of use.
From acquisition to final analysis, EXCELSIOR™ is uniquely designed to meet the demands of ophthalmic clinical trials. EXCELSIOR™ leverages its web-based architecture, an intuitive workflow with a custom toolset, and a network of highly skilled clinical experts to provide faster, more accurate results across multiple test modalities in an accessible and transparent way. Murphy states: "This is the most streamlined and comprehensive software available to help ensure the successful analysis of ophthalmic clinical trial data."
About EyeKor, LLC.
EyeKor, LLC., provides access to a coordinated network of established reading centers and clinical trial experts that offers a complete spectrum of integrated ophthalmic clinical trial services. The EXCELSIOR™ software platform is used to harmonize processes between diverse reading centers. EyeKor experts are unified through common standard operating procedures (SOPs), quality control and assurance, regulatory compliance, and computing infrastructure. The company's expertise encompasses a diverse array of ophthalmic testing methods that include fundus photograph and angiography, optical coherence tomography, fundus autofluorescence imaging, automated visual field testing, specular microscopy imaging and electrophysiological testing.