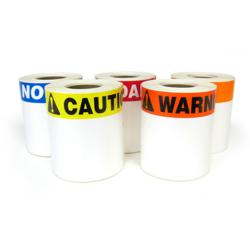 "We use the labels for marking hazardous areas and dangerous chemicals. They are quick and easy to use and last a long time."
Lake Oswego, OR (PRWEB) May 02, 2013
OSHA announced sixteen serious violations during the week ending March 30th that amounted to over $100,000 in fines. A few of the citations included not having a written hazard communication program and training, not having proper labels for containers filled with liquid nicotine, and lacking of directional signs indicating the exit pathway. LabelTac.com is now offering pre-printed header die-cut labels that communicate different popular industrial warnings such as danger, caution, warning, and notice. Caution, Warning and Danger are used for relaying different levels of potential injury, while Notice typically relates to non-injury related scenarios or messages.
Making sure workers and visitors are safe within the workplace does not require much time, effort and money. It is beneficial in today's business world to have a have a safety management program implemented such as 5s. Training employees of safety precautions and reviewing safety regulations entails regular monthly meetings that may last up to ½ hour out of the workday. It is one of the best and affordable solutions that can provide and enforce safety within the work environment. Another simple solution is labeling material, containers, equipment, aisles, exits, and danger zones properly to prevent unnecessary accidents that could cause personal injury or even death.
Pre-printed header die-cut labels provided by LabelTac.com will provide communication where it is needed to ensure everyone's safety. The labels come 200 per roll in 4 inch by 6 inch with a 1.125 inch header that is easily visible. They are UV, water, chemical, and smear resistant making them ideal for labeling all types of material stored inside and outside the facility. The strong adhesive back provides assurance the label will stay put and won't fall off after time.
A plant manager commented, "We use the labels for marking hazardous areas and dangerous chemicals. They are quick and easy to use and last a long time."
For more information about LabelTac Pre-Printed Header Die-Cut Labels, please visit http://www.labeltac.com/label-printers/ or call toll-free (866)777-1360 to speak with a professional representative.