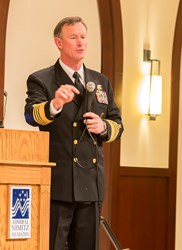 There is a little bit of Texan in all of us. Every man or women who challenge the bullies of the world, they are Texans
Fredericksburg, Texas (PRWEB) May 01, 2013
On Tuesday April 16th, the Admiral Nimitz Foundation held their first annual Distinguished Speaker Series Dinner with guest of honor Admiral Bill McRaven, Commander of U.S Special Operations Command.
The dinner was held at the St. Mary's Catholic Church Parish Hall in Fredericksburg, Texas. After dinner and words from Admiral Nimitz Foundation President and CEO, General Mike Hagee (USMC Ret.), Admiral McRaven delivered a very powerful and emotional speech about Texas Heroes and how Texas Sprit is nationwide. "There is a little bit of Texan in all of us. Every man or women who challenge the bullies of the world, they are Texans," Admiral Bill McRaven said.
Fredericksburg, Texas being the birth place of Fleet Admiral Chester W. Nimitz who was the Commander in Chief in the Pacific during World War II, Admiral McRaven spoke of Texas Heroes past, present, and future. "Fredericksburg has a knack for producing great leaders," Admiral McRaven said as he spoke of Admiral Nimitz along with other World War II heroes.
He spoke of present day Special Operations members Chief Petty Officer, Chris Kyle, who was tragically killed earlier this year. Petty Officer First Class, Marcus Luttrell who is a former Navy Seal who received the Navy Cross for his actions in June 2005 who till this day remains a very proud Texan. Lt. Commander, Jonas Kelsall who was killed in action on August 6, 2011. "I know Chester Nimitz would be proud of Jonas Kelsall," McRaven said when speaking about that spirit that made Kelsall and men like him great heroes.
Admiral McRaven took time at the end of his address to answer questions from those attending and stayed to meet with many of those in attendance. Money raised from this event goes to support the National Museum of the Pacific War.
Admiral Bill McRaven's speech spoke to the spirit that every Texan carries with them, and how that spirit is nationwide. If you are interested in attending next years Distinguished Speaker Series Dinner please visit http://www.pacificwarmuseum.org for information as it is developed.