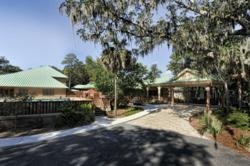 Over the years, we've helped thousands of people lose weight and live a healthy lifestyle
Hilton Head, South Carolina (PRWEB) May 01, 2013
In a recent article posted on FoxNews.com, Hilton Head Health (H3), located in Hilton Head, SC, was named the number one weight loss resort in the United States. Author Laura Kelly made her selection from a wide variety of the country's best-known resort and spa properties, recognizing Hilton Head Health as the best of the best – "a far cry from the fat camps image that has been around for decades."
The article noted H3's wide range of weight loss programs, including three-day retreats, weeklong stays, and an extended program for guests interested in more intensive weight loss.
"Over the years, we've helped thousands of people lose weight and live a healthy lifestyle," said H3 owner John H. Schmitz. "We are extremely gratified to receive this kind of recognition. Especially since I know how hard our staff works every day to provide our guests with the best possible experience."
For more information on the proven, all-inclusive weight loss program at Hilton Head Health, visit http://www.hhhealth.com.
About Hilton Head Health
For over 35 years, Hilton Head Health (H3) has been recognized as the premier weight loss and health retreat in the United States. Recently, H3 was featured on A&E's weight loss docudrama HEAVY. Voted as "Best for Weight Loss" for the past six years by SpaFinder and "Top 5 US Health Spas" by Lisa Drayer on the Today Show, Hilton Head Health is an exclusive resort delivering individualized experiences in the areas of Fitness, Nutrition and SELF (Stress management, Empowerment, Longevity, Fulfillment). For more information, please visit http://www.hhhealth.com or call 800-292-2440. Free health and fitness tips, as well as healthy recipes, are available on the official H3 blog at http://www.h3daily.com. Become a part of the H3 Family by joining the conversation on Facebook and Twitter.
###