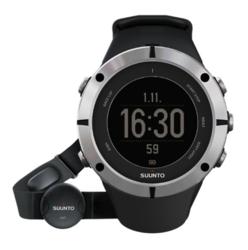 For durability, daily usability and quality of construction the Suunto Ambit 2 has the Garmin 910XT beat hands down
Bozeman, MT (PRWEB) May 01, 2013
The original Suunto Ambit kicked Garmin pretty hard with the Garmin fenix and has maintained a much more user-centric environment with apps, firmware evolution and a much quicker product evolution.
Ambit 2 and Suunto Ambit 2 Sapphire still lead the world for rugged outdoor watches according to the testers at the Heart Rate Watch Company. "While Garmin fenix has more waypoints for navigation, Suunto has the best all-around features and many more advanced sports features." says Rusty Squire, president of the Heart Rate Watch Company.
SUUNTO AMBIT 2S
The Suunto Ambit 2S runs smack into Garmin Forerunner 910XT competitively in the exclusive arena of triathlon watches that will measure all metrics for cycling, running and swimming.
SMALLER & LIGHTER BUT LESS BATTERY LIFE
The Suunto Ambit 2S is 20 grams lighter than the Sapphire version but the Ambit 2S only lasts 8 hours at one second recording intervals, so it is not intended to be a full Ironman watch, and lengthening the recording intervals is not recommended for cycling, or running, says Squire.
Suunto beats Garmin handily on watch construction and durability, plus the Ambit 2S is a round watch that is significantly smaller so it is much nicer for everyday use. The red and lime green colors may not cut it in the office but the new Graphite worn with a business suit is no problem. The Garmin 910XT is pretty much an exercise only watch.
The Garmin 910XT still has the Suunto Ambit beaten on swim features, for now, but there is nothing different that Suunto cannot simply address with just a firmware update or two.
For cycling and running features the watches are very close to a parity but Suunto has significantly more available apps that can be loaded to their watch.
"For durability, daily usability and quality of construction the Suunto Ambit 2 has the Garmin 910XT beat hands down", says Squire. He adds, "The level of customization that over 1,000 apps allows is just phenomenal, in fact, you may never see two Suunto Ambit 2 watches configured the same way".