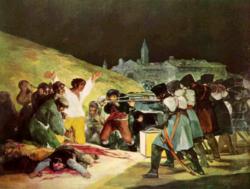 The sleep of reason produces monsters.
New York, NY (PRWEB) May 01, 2013
The Day of the Autonomous Community of Madrid (Fiesta de la Comunidad de Madrid, Dos de Mayo) is a public holiday in Madrid, Spain, on May 2. It marks the anniversary of an uprising against French troops on May 2, 1808, eventually leading up to Spain's War of Independence, as famously depicted in one of Goya's most revered works: "Los Fusilamientos del 3 de Mayo".
To commemorate this significant event in Spain's history, from May 1st through May 15th 2013 Mighty Mack's Drawings: Francisco Goya, Paintings: Francisco Goya, and Goya Etchings will be available free for download from iTunes.
Francisco José de Goya y Lucientes (1746 – 1828) was a Spanish romantic painter and printmaker regarded both as the last of the Old Masters and as the first of the moderns. The subversive and imaginative element in his art, as well as his bold handling of paint, provided a model for the work of later generations of artists, from French Romantic painters, to expressionist, modernist and most notably Manet and Picasso.
Throughout his career, Goya produced an enormous oeuvre of paintings, prints, and drawings whose content and tone can be patriotic or subversive, spiritual or satiric, grave or humorous, and anything in between. His themes range from merry festivals for tapestry, draft cartoons, to scenes of war and corpses. 
This evolution reflects the darkening of his temper. Near the end of his life, he became reclusive and produced frightening and obscure paintings of insanity, madness, and fantasy. The style of these Black Paintings prefigure the expressionist movement.
Goya's work extended over a period of more than 60 years (he draw and paint until his 82nd year).
The importance of this factor is evident between his attitude towards life in his youth, when he accepted the world as it was quite happily, in his manhood when he began to criticize it, and in his old age when he became embittered and disillusioned with people and society, as the world changed completely during his lifetime.
The hundreds of extant drawings by his hand include both preparatory sheets for works in other media and independent drawings of diverse subjects executed primarily in ink and wash and lithographic crayon. The drawings, are sometimes characterized as a form of talking to himself. They present the wide spectrum of subjects he treated, including critiques of the monastic orders and the nobility, interactions between the sexes, depictions of visions and nightmares, and allusions to the consequences of war and political oppression. 
Goya also published numerous etchings and aquatints, being his most famous series Los Caprichos, The Disasters of War, Los Disparates and Tauromaquia.
They reflect his dark visions of "the sleep of reason produces monsters" as he put it in his own words, the horror and destruction of war.
In this full version of Mighty Mack's Drawings: Francisco Goya App, the user will find over 120 drawings and etchings by this renowned and celebrated artist. 
In the full version of Paintings: Francisco Goya App, the user will find 139 paintings by the master Francisco Goya.
In the full version of Mighty Mack's Goya Etchings App, the user will find the complete collection of 217 etchings by Francisco Goya:  Los Caprichos (80 plates), Los Desastres de la Guerra (82 plates), Los Disparates (22 plates) and Tauromaquia (33 plates). 
These Apps are available for iPod Touch, iPhone and iPad. Optimized for iOS6, retina display and iPhone 5. The user may share images via email, Twitter and Facebook, or save them to camera roll (with no watermarks). Share the artists' bios via email. Select favorites. View the images one by one, or enjoy a slideshow.
Enjoy this fantastic visual gallery, share the images with friends, and learn about these artists' lives.
Updates include:

Optimized for iOS 6.1.3
Optimized for iPhone 5
Updated User Interface
New Splash Page
App Requirements:

iPad, iPod Touch or iPhone, with iOS 5.0 or higher
Wifi connection to download the app
An internet connection for sharing images via email, Twitter or FB (no internet connection required to view the App content)
Click here to see the complete collection of Aramis Artists Apps released by Mighty Mack.
--
Mighty Mack is a leading publisher of distinguished digital products for the consumer and professional markets. The Company leverages newly available digital tools to create, design, and share new ways of consuming information and experiencing the world around us. The company has released a variety of best-of-class Apps, including Advertising Today, Morpheus Dreams, Where2Boss?, Agora Briefcase, Film Today, among many others.
To learn more about Mighty Mack please visit their website at http://www.mightymack.com or email them to press(at)mightymack(dot)com.