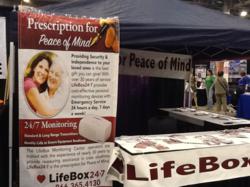 Notepads and Literature for All!
Houston, Texas (PRWEB) May 03, 2013
LifeBox 24*7, a leading supplier of personal emergency response services in Texas, was a very successful exhibitor at the Ultimate Women's Expo held in Houston last weekend. Thousands of women came into the hall and visited the LifeBox 24*7 booth.
"I liked the fact that LifeBox is headquartered and operates in Texas," said Stella Griffin, an attendee of the Expo."I don't want somebody from New York answering the phone when my Nana needs help!"
LifeBox 24*7 employees handed out "prescription" pads emblazoned with the company's slogan "Your Prescription for Peace of Mind," passing them out from both sides of the corner booth.
"Every woman needs a notepad!" said Holly Arbuckle of LifeBox 24*7. "I was pleasantly surprised at the great reception we got. Being a Texas company with a reasonably priced product that provides such a great service is a prescription for success."
Trade show marketing is a well respected method of taking a company's products and services directly to the market. Any opportunity to speak to thousands of potential clients is a chance for a quality company to spread the word and increase their customer base. LifeBox 24*7 has a unique story to tell and expos and shows are a tried and true method for sharing the story of caring and personalized service.
LifeBox 24*7 is a Texas-based provider of personal emergency response services. Reach them at http://www.lifebox247.com or 866-365.4130.