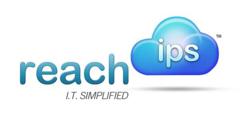 unparalleled ease of migration for companies needing a combination of both today's and yesterday's application solutions while providing state-of-the-art data integration
Anaheim Hills, CA (PRWEB) May 01, 2013
Reach IPS, one of the nation's premier turnkey cloud service providers, announces the release of its 7th generation cloud platform, A-Connect. The updated A-Connect platform features a world-class Desktop-as-a-Service, Hosted Server, 24x7x365 Application support model with built-in Disaster Recovery services. A-Connect has been tested and certified compatible with over 1000 legacy applications in the healthcare, energy, and higher education industries. Reach's cloud platform now supports legacy applications and operating systems from as far back as 1997, including but not limited to: AIX, UX, Linux, Windows NT-2012, Solaris 8-11, OS/400 (AS/400) as well as the current .Net, and LAMP systems. Reach claims full compatibility for over 16 different database platforms as well.
According to Reach's CEO, Joe Feyereisen, this new release enables "unparalleled ease of migration for companies needing a combination of both today's and yesterday's application solutions while providing state-of-the-art data integration."
"We believe that most companies need to remain productive without upsetting the learning curve for many of today's new applications," said Feyereisen, "and our new upgraded platform enables users to decide which applications and infrastructure require upgrading and which should remain as-is."
Reach IPS provides application migration both from infrastructure and operating systems from onsite to the cloud as part of their service model. This ensures that Reach's clients are comfortable with Reach supporting and understanding their usage model, as well as providing valuable I.T. services away from the traditional onsite server room.
The 7th generation platform is available now throughout all of the United States and Canada.
About Reach IPS.
Reach IPS, Inc. is an award winning Cloud Service Provider in the healthcare, energy and higher education industries. Spanning over 53 datacenters domestically and 81 globally, Reach's A-Connect cloud platform is the only system to meet or exceed all 14 global compliancy requirements. For more information, please contact Reach IPS at 877.282.1609 or at their website http://www.ReachIPS.com.