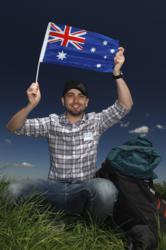 The idea of combining my passions for travel and wildlife would be a dream come true.
(PRWEB UK) 1 May 2013
A business consultant from Hampshire is in line for one of the best jobs in the world after reaching the shortlist for the role of Wildlife Caretaker in Southern Australia.
And he is being helped on his final push for success by Leepeckgroup which has media trained Scott ahead of around of interviews and press visits.
More than 350,000 people from around the world initially applied for one of six jobs on offer with 29 year old Scott Tisson now hoping that his passion for wildlife and the great outdoors will see him secure the best job in the world.
Scott, from Eastleigh, is one of just 25 people shortlisted for the role advertised by Tourism Australia and he is now bidding for his plane ticket to Australia.
"I've been to Australia twice before and love the country,'' he said. "The idea of combining my passions for travel and wildlife would be a dream come true - and I'm determined to do everything I can to be successful. Themedia trainining from Leepeckgroup has given me the confidence to tell my story effectively which is key in this phase of the project.''
Scott reached the final stages of the recruitment process with his 30 second video explaining why he is the best person for the job and his mission now is to secure as much support as possible.
"Squeezing your lifelong achievements and relevant experience into 30 seconds, along with showing energy and character was tough, but they must have seen something they liked,'' said Scott who is now appealing for wildlife experts, celebrities and adventurers to support his campaign.
"I now have to show that other people also believe I am the best for the job so I'm hoping that people will support my efforts on Facebook, Twitter and sending me their endorsements.''
Andrew McEvoy, Tourism Australia's Managing Director, said the response from the UK to the global competition had been huge: "Tourism Australia's 'Best Jobs in the World' competition has clearly struck a chord with Brits, and I know there are some fantastic entries from the UK in the mix. We're looking for great storytellers, someone adventurous, inspiring – a person eager to jump into the role and soak up all Australia has to offer."
To support Scott's campaign you will find him at http://www.facebook.com/scottadventurer and @ScottTisson on Twitter.