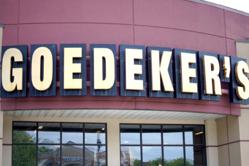 Electrolux Up to $300 Memorial Day Saving Front Load Laundry Rebate
(PRWEB) May 02, 2013
Online appliance retailer, Goedeker's, now has available a Memorial Day rebate for Electrolux laundry worth up to $300.
"I believe this is the most generous rebate we have ever seen on these models," Steve Goedeker, CEO of Goedeker's.
Rebate info:
05/01/13 - 05/31/13 Electrolux Up to $300 Memorial Day Saving Front Load Laundry
Rebate
Models available for rebate:
Washer: EWFLS70JIW/SS
Dryers: EWMED70JIW/SS and EWMGD70JIW/SS
Be aware the rebate expires at the end of May.
Discover more information at Goedeker's rebate page.
About Goedeker's
Goedeker's is a leading online retailer of appliances, mattresses, furniture, and plumbing supplies. Founded in 1951, Goedeker's has become known for offering the best prices and hometown service. To learn more, please visit Goedekers.com.