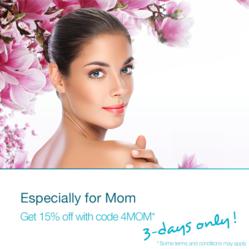 Montreal, Quebec, Canada (PRWEB) May 02, 2013
EvoDerma's Especially for Mom* 2013 Mother's Day campaign involves a 15% rebate, with the purchase of the Limited Edition LUMI™ Hair Removal System or the NOOME Anti-Aging Motion device.
To redeem this offer, customers will have to enter the following Especially for Mom* promotional code on evoderma.com, just before the checkout page: 4MOM.
To learn more about this offer, please visit evoDerma promotional page.
EvoDerma's LUMI™ IPL hair removal system provides a long-term solution for unwanted hair growth on both men and women. Scientifically proven, Intense Pulsed Light Technology is a safe and painless way to remove unwanted hair at the root. The IPL technology in evoDerma's hair removal system has been used in clinical settings for over 15 years and has been scientifically proven as a safe and painless alternative to laser hair removal and waxing. The LUMI™ IPL system achieves professional hair removal results from the comfort of home.
EvoDerma's NOOMETM Anti-Aging Motion device provides an effective alternative to expensive, invasive and painful anti-aging procedures. NOOME™ is inspired from both the ancient Japanese treatment called "kyukaku" which has been used for thousands of years and the clinically proven aesthetic treatment called "endermokinesis" therapy. By targeting the natural causes of fine lines, expression lines and wrinkles, NOOME™ becomes an effective method for both prevention and repair.
About EvoDerma
EvoDerma Inc. spent years developing cutting-edge skin care and hair removal products. They continue to do so through countless hours of research and testing. All EvoDerma products are safe, cost-effective, and utilize the highest technical advancements in the industry. The LUMI™ IPL hair removal device and the NOOME Anti-Aging Motion device are both a true testament to the company's efficiency, quality, and safety commitments.