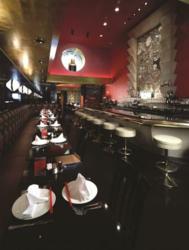 Sacramento, CA (PRWEB) May 01, 2013
In what is known as the Academy Awards of the culinary world, Sacramento's oldest restaurant, Frank Fat's, has been named a 2013 America's Classics award-winner by the prestigious James Beard Foundation. Frank Fat's is the only establishment in California to be recognized with the 2013 award and is one of just five restaurants selected nationwide. Members of the Fat family will accept the prestigious award at the James Beard Foundation Awards Ceremony May 6, 2013 at New York's Lincoln Center.
The James Beard Foundation's America's Classics award was established in 1998 and is awarded to restaurants that are "distinguished by their timeless appeal," and which are "beloved in their regions for quality food that reflects the character of their community." This year the foundation received more than 28,000 entries nationwide that were judged by an expert panel of leading regional restaurant critics, food and wine editors, culinary educators and past James Beard Foundation Award winners.
Frank Fat's is a Sacramento landmark that has served its signature dishes to every governor to run the Golden State in the last eight decades. The award-winning restaurant has been known as "The Third House" of the California legislature for its renowned status among politicians from both sides of the aisle. Frank Fat's has united opposing legislators and lobbyists over comforting, classic dishes like Mandarin Duck, Honey Walnut Prawns and the restaurant's signature Frank's Style New York Steak.
"This award recognizes everything my father believed in – outstanding food, generous portions, caring service and a simple, but deep-rooted desire to make people happy," says Frank Fat's President and CEO, Jerry Fat.  "He loved his customers, they all loved him, and I believe that his spirit is what has kept us so successful all these years."
To celebrate the James Beard award, Frank Fat's will be hosting America's Classics Month May 13-31, where they will feature a pre-fixe menu serving the family's "classic" dishes.
ABOUT FRANK FAT'S:
Established in 1939 by its namesake, Frank Fat's has become a Sacramento landmark known for its classic Chinese cuisine, generous portions, high-touch service and storied history of political clientele. Designated a 2013 America's Classics award-recipient by the James Beard Foundation, Frank Fat's remains at its original location at 806 L Street. For more information, visit http://www.frankfats.com or call 916-442-7092.