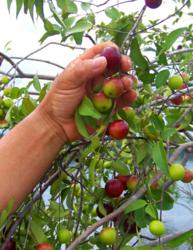 Vero Beach, FL (PRWEB) May 02, 2013
Imported from South America by Greens Plus, camu camu berry is air dried at low temperatures to preserve heat-sensitive nutrients and conveniently offered in veggie capsules. One serving provides 400mg of natural vitamin C, which is 665% of the recommended Daily Value and 320% more than a glass of orange juice containing just 124mg.
Scientific studies have proven camu camu's many health benefits, including a diet-induced obesity study published in the Annals of the Brazilian Academy of Sciences. Researchers found that camu berry helped burn body fat, reduce unhealthy cholesterol or HDL, and increase healthy cholesterol or LDL.
Greens Plus Camu Camu Vitamin C Caps are now available in Whole Foods Markets, Walgreen's Pharmacies and other fine health food stores, or online at http://www.greensplus.com/camu.
ABOUT GREENS PLUS
Greens Plus, has been helping people live healthier, happier lives since 1989. The Original Superfood Company produces 100% natural, non-gmo and certified organic Superfood powders, Camu Kaze Energy Shots, and the #1 selling Chocolate Energy Bar in America. For more information, visit http://www.greensplus.com or call Toll-free 1-800-643-1210.