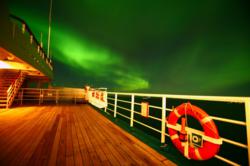 'Just want you to know how much my group enjoyed our cruise on the Marco Polo. It was a WONDERFUL experience – I just can't say enough about the friendliness and helpfulness of the staff and crew.
Fort Lauderdale, FL (PRWEB) May 03, 2013
Cruise and Maritime Voyages is pleased to present its "buy one get one half off" early bird special on all 2014 Northern Lights sailings equal to savings of up to 69% off. Travelers will discover the enchanting winter landscape sailing along the stunning Norwegian coastline and across the Arctic Circle in search of the spectacular Aurora Borealis or Northern Lights. This inspired itinerary showcases the amazing atmospheric display of green and pink lights dancing across the sky acclaimed as one of nature's wonders. Travelers can choose to embark the Marco Polo in London or the Discovery in Bristol or Liverpool.
With rates starting from just $2,029 for 14 nights, travelers on this Cruise and Maritime Voyages' itinerary will set sail onboard Marco Polo or Discovery to some of the best places in Norway to witness the Northern Lights phenomenon including: Narvik, with its equally breathtaking views across deep fjords and wild mountains; Tromsø, boasting streets of old wooden houses and two wooden stave churches; and Alta, where approximately 3,000 prehistoric rock carvings have been found. The next stop on this amazing adventure is the art nouveau masterpiece of Ålesund characterized by its gables, turrets and ornate flourishes across pastel-hued facades. Then it's on to Bergen, known for its maritime history and colorful harbor-front fish and flower markets. Travelers will enjoy a day at sea to reflect on the highlights of this stunning voyage before returning to the UK.
Discounted Rates: The rates detailed are what the first passenger would pay with the accompanying passenger paying half that, based on double occupancy and are subject to availability at the time of booking. Travelers are encouraged to book as soon as possible to secure the lowest discounted rates, which are available for new bookings. Promotion ends June 5th, 2013.
Discounted sailings include:
Marco Polo sails from London, Tilbury on Sunday 16th February, 2014 from $2,229
Marco Polo sails from London, Tilbury on Sunday 2nd March, 2014 from $2,229
Marco Polo sails from London, Tilbury on Sunday 16th March, 2014 from $2,029
Discovery sails from Bristol Avonmouth on Tuesday 11th March, 2014 from $2,159
Discovery sails from Liverpool on Wednesday 12th March, 2014 from $2,119
To Book: Travelers can book this deal by contacting their preferred travel agent or by calling Cruise & Maritime Voyages on their toll-free reservations at 855 206 4897 or online by clicking here.
About Cruise and Maritime Voyages:
Cruise and Maritime Voyages provides a diverse array of "Cruises of Distinction" departing from ports in the UK and Europe to destinations throughout Northern Europe, Scandinavia, the Mediterranean and surrounding regions. The line features inspired cruise itineraries sailing aboard classically designed ocean liners of 800 passengers or less for a truly intimate cruise experience where the emphasis is always on providing very attentive service and friendly "home away from home" atmosphere. For additional information, visit http://www.CruiseandMaritime.com or call 855-206-4897