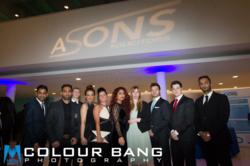 Asian media doesn't receive the recognition it deserves, so I'm glad we now have these awards to recognise great talent
Bolton, UK (PRWEB UK) 6 May 2013
The awards, due to be held at the Hilton Deansgate, on October 31st, looks to recognise some of the brightest minds in Asian media from digital marketing and blogging through to journalism.
Asons Solicitors, the awards main sponsor, attended the event (Thursday 25th April) to show their support and to deliver a speech on the state of media today.
John King, Business Development Manager at Asons Solicitors, delivered the speech; reminding attendees that professionals working in media need to 'understand everything' and that to 'do one thing to the exclusion of all others is to chance ruin'.
Mr King talked at length about the fragmentation of the media space and about how the future of media will rely quite heavily upon the influencers and thought leaders.
"The world of mass publication as we know it is dead. We need to have the customer's best interests at heart if we're to cut through the clamour and noise. If I was to ask you how you found your favourite author, the chances are, that a friend recommended them to you; somebody who knows and understands you – we need to be doing the same – leveraging the right media channels to support and persuade these people on an individual level"
Speaking after the event, Mr King commented that:
"The turnout has been brilliant. Asian media doesn't receive the recognition it deserves, so I'm glad we now have these awards to recognise great talent. I only hope that these awards inspire others to truly grasp the power of media and to use it to achieve great things"
According to the event organisers the awards strive to 'highlight the ground breaking work of reporters and producers in highlighting issues affecting race relations and human rights'. In addition, it is hoped that the awards will provide a great networking platform for those working within the industry to open up new opportunities and to form new partnerships.
The night itself was a huge success, with some of the biggest names in mainstream media gathering at the prestigious event, to share their excitement and support. There was an impressive list of guest speakers and companies supporting the event including Asons Business Development Manager John King, Paul Newman, Director of communications at MediaCityUK, Paul Johnston, head of Press Association Training, Dr Ajaz Ahmed Khan, Microfinance advisor with CARE international, Raj Baddhan, founder of BizAsiaLive.com, Rebecca Taylor, Conference and Events Manager at The Hilton and Pedro Carvalho, Director at Ethic Now.
The awards will be celebrating the finest minds in online, print, radio and PR that have shined through within their particular categories.
Speaking on their own media activity at Asons, Marketing Executive, Laura Williams, commented that:
"It's an honour to be sponsoring these awards, as this looks to become one of the most influential awards of its kind. We plan and buy media on a daily basis, so we understand the complexities of the media space and how understanding it properly can lead to great success. We believe that it's about time that those who 'get it' are rewarded for their efforts."
For more information on the involvement of Asons Solicitors with the Asian Media Awards, they can be contacted online at http://www.asons.co.uk, or directly on: 01204 521 133
.

About Asons Solicitors:
Asons Solicitors is a Bolton-based law practice that specialises in personal injury and industrial disease claims. Founded by brothers Imran Akram and Kamran Akram, Asons Solicitors has developed to become a young and dynamic law firm that delivers practical solutions to clients in times of difficulty. Their continued focus on their staff has seen them awarded with the Investors in People "Gold Award"; which is reflected in the professional and personable approach they take in working with clients. They strive to grow and to develop, and their supportiveness and attention to detail ensures that their clients use them time and again.
For further information contact:
Email: info(at)asons(dot)co(dot)uk
Website: http://www.asons.co.uk