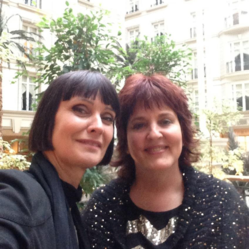 Keeping things interesting seems to be the key. There always needs to be an element of surprise. Corinne Drewery
Los Angeles, California (PRWEB) May 01, 2013
Grammy-nominated band Swing Out Sister celebrates more than top ten hits, worldwide appeal, and a devoted global fan base. While they are best known for such smash hits as "Breakout", "Am I The Same Girl" and "You Are On My Mind", Corinne Drewery and Andy Connell are partners who have been creating music and living life together for 25 years, bridging their calling and their relationship.
While most relationships and bands split up after a much shorter time, Andy and Corinne continue to make music and magic together. Sharing a love and a creative space is an art form that few people in the world get a chance to experience.
It's Rainmaking Time!® explores the mystery of their success and longevity in an intimate setting in London. Corinne shares her real-world experiences about family, performing, travel, life and death and opening for legends like Burt Bacharach, Stevie Wonder, and Tom Jones, and living life as a true artist in every sense of the word.
Swing Out Sister is coming to the USA beginning July 3rd at Chene Park Ampatheater in Detroit Michigan, then on July 7th at Birchmere in Alexandria Virginia and in New York, New York at The B.B. King Blues Club and Grill on July 9th. Don't miss one of the music industry's greatest treasures.
This interview was sponsored by The Sterling Hut, a provider of Italian Fine Silver Gifts for All Occasions at http://www.thesterlinghut.com.