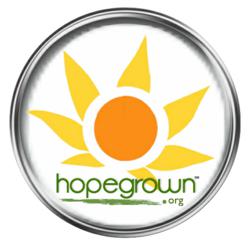 "We were very concerned about tone and image. We wanted the entire website to have a look and feel like WebMD."
Los Angeles, CA (PRWEB) May 01, 2013
Los Angeles currently boasts over 700 dispensaries. For medical marijuana patients, finding one that's safe, clean and welcoming isn't as easy as it sounds. New website, Hopegrown.org, aims to change that. Says founder Pete Lamptey, "We're creating a unique and free online-resource that caters not only to patients, but to the friends and loved ones of those patients. We're bridging the gap for the curious and trepidatious, offering them safe and relevant cannabis health information." Two years ago, Lamptey, a medical marijuana patient himself, teamed up with co-founder and fellow patient, Peter Story (yes, Pete & Peter), to begin work on what both consider to be a grassroots movement. Says Story, "We're simply a dedicated group of teachers, lawyers, doctors and artists who are giving our best to make this thing happen."
Story, attests that timing is everything. And he's right. According to the latest report from the Pew Research Center, a now clear 52% majority of Americans favor legalizing the use of marijuana while 45% were against it. But the stat Pete and Peter are interested in is the one that says that nearly half of all Baby Boomers now favor legalizing cannabis--making it among the highest percentages for the 49-65 age group ever. "We're interested in the Boomers as well as the older patients because we believe they stand to benefit most from medical marijuana," says Lamptey. "They have the most cases of chronic illnesses and we want to provide a place on the internet where they can get help and find the answers to their questions without being made to feel like a criminal."  
You can tell this is a key issue for Lamptey and his business partner.  A common Google search for help finding medical marijuana will lead most first time users to sites like WeedMaps.com.  Considered the Goliath of marijuana finder websites, WeedMaps rakes in an impressive 400k a month in profit alone. And after a quick visit to this monolith of a website, it doesn't take long to see who its target audience is. With weed leaves splashed across the page, in a couple of clicks you find yourself face to face with bikini-sporting, bong-ripping THC fanatics. Megan O'Neil, Hopegrown's head of public relations, was asked to step in to counter this type of web content. She clarifies, "We were very concerned about tone and image. We wanted the entire website to have a look and feel like WebMD." She adds, "We're catering to people with professional careers and people who are concerned about their privacy. We want those people, when they come to Hopegrown, to feel safe and secure."
Launching in the fall of 2013, Hopegrown.org will feature:

Unique blog hub where common questions are answered by experts in the field
Simple interactive online guide to help demystify the process of obtaining medical marijuana
Collection of DIY videos with relatable hosts and high quality content
Search engine whereby a patient can enter his/her location and be given a list of doctors and/or dispensaries in their area which have met certain standards
The Hopegrown Standard, a list of better practices guidelines created by the website's legal team, aims to separate the good guys from the bad guys. "This is so important," attests Ariel Clark, a prominent LA attorney who specializes in medical marijuana law. "Currently it's illegal for a medical professional to recommend a specific collective or dispensary." Despite this limitation, doctors are allowed to recommend "finder" websites (like Hopegrown) but have been reluctant in the past due to the sparsity of reliable patient-focused sites. Lamptey and Story feel confident their innovative website will be exactly what these hesitant doctors are looking for. Story details, "The writing is on the wall. Most doctors are already aware of the health benefits of cannabis. They just need a leg to stand on. An unimpeachable one. And that's what we're going for."
Hopegrown, an LA-based startup, is focusing its launch for a California market but is not sitting on its heels waiting for the competition. "We have big plans," Lamptey grins, "We wanna be in every state where cannabis is legal and eventually in every country too." More details on Hopegrown's ambitions as well as donation information can be found on the Hopgegrown website.