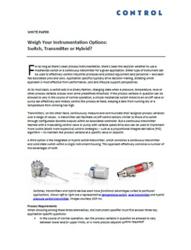 Our goal is education. We want to help technicians focus on the application need that drives instrument selection
Lenexa, KS (PRWEB) May 23, 2013
SOR Inc. has launched a new complimentary white paper that offers three key questions to help the reader determine the best instrumentation for the application. The white paper is titled, Weigh Your Instrumentation Options, Switch, Transmitter or Hybrid? A senior editor at Control magazine authored the paper with direction and input from SOR® engineers and product managers.
The white paper outlines three application specific questions that will help the reader identify his preferred instrumentation for the application in question. It discusses process variables, the need for display or remote communication and alarming as well as potential consequences if the process variable moves outside of its intended range.
"Transmitters are in such common use today that technicians sometimes don't realize that a switch can provide a similar function at a potentially lower cost," said John Fortino, SOR Vice President of Engineering. "On the other hand, there are hybrid transmitters such as the SOR 805QS that has a 5 ms response time which is really fast for a transmitter, and offers both a switch and transmitter in the same device. We sell them all, so our goal is education. We want to help technicians focus on the application need that drives instrument selection," he said.
Since 1956, SOR Inc. has offered a comprehensive line of level, pressure, temperature and flow instrumentation for a wide variety of industries and applications. SOR Inc. has a registered quality system to ISO 9001:2008.
World headquarters and manufacturing facilities are located in Lenexa, Kansas with sales offices in the United Kingdom and China. SOR Inc. also supports its markets worldwide with more than 100 Representatives. Visit us at http://www.sorinc.com