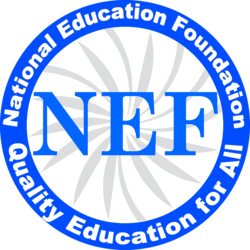 (PRWEB) May 01, 2013
The I3 competition aims to provide funding support to schools partnering non-profits that have displayed measurable improvements for students. NEF offers to partner with any LEA or consortium that is interested in improving low-performance on STEM education in an innovative way. With this partnership NEF can guarantee students will academically improve in reading and math by one letter grade on 30 learning hours.
As the U.S. Department of Education has launched its Investing in Innovation (I3) annual competition, many potential grantees face a serious challenge -- identifying a private match partner. This challenge requires potential grantees to acquire a 15% private match.
The National Education Foundation (NEF), http://www.cyberlearning.org, the national nonprofit leader in bridging the academic and job skills divides, has partnered with local education agencies (LEA) in previous years. So, NEF is offering the initial 15% match, with a guaranteed 50% match contribution required at the end of the final deadline. NEF's match is a reflection of its continued commitment to improving education for all students.
NEF Chairman Dr. Appu Kuttan, who is passionate about preparing US students better for college and the 21st Century workforce, states, "US is ranked 25th out of 36 countries in math and science. To compete effectively in the global economy, we need to improve substantially STEM+ education in our nation's schools. Hence we strongly support programs such as the I3 grant."
By investing in the integration of technology into the classroom setting NEF's CyberLearning platform provides an innovative method for the integration of STEM + (Science, Technology, Engineering and Math, English, Social Studies, SAT/ACT, IT and Business) education in the classroom. Improving STEM education is one of the top priority areas for the I3 grant.
NEF's CyberLearning STEM+ academies, administered by the State University of NY (SUNY) and local universities, offer top-quality personalized courses in all STEM + courses mapped to the Common Core Curriculum standards as well as state standards in all 50 states.
In addition to the courses, the private match provides schools funds for teacher stipends, student motivational rewards, parent awards and teacher training. This match opportunity is available to LEA's and consortiums of schools. Interested parties can get additional information by visiting http://i3match.org/ or call NEF at 703-823-9999.
About NEF
The National Education Foundation (NEF) is the national non-profit leader in bridging the academic and job skills divides by providing world-class education in STEM (Science, Technology, Engineering, Math), English, test prep, digital literacy, IT, business and management. NEF offers assistance to millions of disadvantaged students and adults. See/http://www.cyberlearning.org.