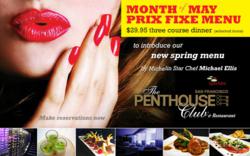 People can expect a different kind of experience at Penthouse
San Francisco, CA (PRWEB) May 01, 2013
Penthouse Club & Restaurant, a premier San Francisco adult club and fine dining restaurant, is introducing an all-new menu handcrafted by Michelin Star chef Michael Ellis with a special May prix fixe menu.
"People can expect a different kind of experience at Penthouse," said Penthouse Marketing Director Axel Sang. "We have a formal dining room with a sommelier and maître d', and you can see our very classy entertainers dancing while you eat, so it ends up being a unique fine dining experience."
For a limited time, guests can enjoy a three-course dinner filled with options like grilled asparagus salad with roasted shallot vinaigrette, Niman Ranch pork chops stuffed with prosciutto, pan roasted "Ora King" salmon and chocolate lava cake for only $29.95.
Known for being one of the best strip clubs in San Francisco, Penthouse also features two main dining areas within the 15,000 sq. ft. facility. Guests can order premium-quality steakhouse meals from any seat in the house while getting a glimpse of the hottest ladies in town.
Chef Michael Ellis has been the head of the kitchen since its opening in 2012. His background includes working with Top Chef winner Michael Voltaggio, his brother Bryan Voltaggio, and a lengthy stint as chef at Charlie Palmer's Dry Creek Kitchen in Healdsburg.
His menu at Penthouse continually evolves with the seasons, as he uses only the freshest ingredients and refuses to compromise quality.
To make reservations for the May prix fixe dinner menu, visit http://penthousesf.com/month-of-may-prix-fixe-menu/. For more information about Penthouse Club & Restaurant in San Francisco, visit penthousesf.com or call (415) 391-2800.
About Penthouse Club & Restaurant San Francisco
The Penthouse Club & Restaurant has taken upscale adult nightlife in San Francisco to an entirely new level. Featuring the top exotic dancers from around the country, the 15,000 square foot San Francisco strip club combines the best in adult entertainment with some of the finest dining in the city—including mouthwatering steaks, seafood and pastas prepared by Michelin Star-rated chef Michael Ellis.
The Penthouse Club & Restaurant's distinctive design features include a massive 20-foot tall video wall, LED light curtains, gigantic, see-through champagne display cabinet, video-embedded cocktail tables, intimate private dining booths, and a refrigerated and illuminated ice rail built into the main bar to keep guests' drinks cold.
Located at 412 Broadway Avenue, the Penthouse Club & Restaurant in San Francisco is independently owned and operated, and is open 7 days a week. Bottle service and dinner reservations can be made at penthousesf.com, on Open Table, or just call (415) 391-2800.