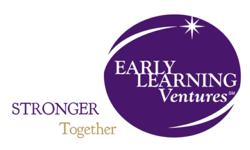 "We welcome all of the new child care providers to ELV. We are honored to work with each of them to help them improve the quality of their services, while making their business stable and sustainable," said Mia Pritts, ELV Implementation Manager.
Denver, CO (PRWEB) May 02, 2013
Early Learning Ventures (ELV) is a Colorado-based, not-for-profit organization dedicated to expanding access to quality, affordable child care. The organization focuses its efforts on improving the quality of early child care programs offered at the nations' center- and home-based child care facilities—85 percent of which are small, independent businesses that lack the infrastructure and resources to invest in quality improvements. Working with a network of partners and through an online, cost-effective business platform, Early Learning Ventures is supporting providers to improve the quality of care they offer to children and their families while strengthening their businesses, saving time and lowering costs.
We are pleased to announce the addition of the following child care providers to our network of Early Learning Ventures. These providers are improving the quality of their care, saving time and lowering costs, so they can focus on doing what they do best - caring for and educating children. Welcome aboard!
ELV Metro Alliance - Serving Front Range Counties from Larimer to El Paso County

Stepping Stones Learning Center, LLC, Denver
Kids 4 Real, Inc., Denver
Blessed Sacrament Catholic School, Denver
Dreamer's Day Camp, Denver
Highlands Academy, Denver
Precious Angels, Denver
Venture For Success, Denver
Ours and Yours Little Loves, Denver
Restoration Christian Academy, Aurora
Montessori del Mundo, Aurora
Denise Martinez, Family Child Care Provider, Fountain
La Petite Academy of Parker, Parker
Mile High Montessori, Denver
3:16 Place, Centennial
Sewall Child Development Center, Denver
ELV Bright Futures Alliance - Serving San Miquel, Ouray, Delta and Montrose Counties

Rainbow Preschool, Telluride
Toddler Town Preschool, Telluride
Mountain Sprouts, Telluride
Community Options, Montrose
Norwood Preschool, Norwood
Primetime Preschool, Norwood
ELV Early Childhood Network - Serving Pitkin, Garfield and Eagle Counties

Mountain Valley Lutheran Preschool, Eagle
Eagle Ranch Drop In Care, Eagle
Pooh Corner Preschool, Eagle
Lil´ Tikes Early Learning Center, Silt
Little Red Schoolhouse, Snowmass Village
For more information, visit http://www.earlylearningventures.org.