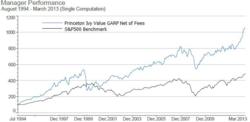 Princeton Ivy Capital Advisors uses a rigorous screening methodology in selecting companies for investment.
New York, NY (PRWEB) May 01, 2013
Princeton Ivy Capital Advisors Value GARP strategy had a 25.79% net of fee return which beat the MMR's Large Cap Core Manager database. Note that this net of fee record also beat the gross of fee return included for many other managers in the database.
This investment strategy focuses on long term large cap value investing and has been established since 1994. The eighteen year track record of 14.61% annualized return gross of fees has been managed by Indira Amladi MS MBA CFA since inception.
Princeton Ivy Capital Advisors does not charge incentive fees, however it charges Asset Management fees which are negotiable.