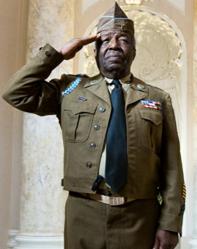 No veterans, no democracy. No democracy, no America.
Los Angeles, CA (PRWEB) May 02, 2013
Fans of James McEachin's Old Soldier character have been rallying to "Let An Old Soldier Onstage at the National Memorial Day Concert" by sending comments and requests to Capital Concerts and PBS like the following. Tammy Swofford, the writer, is a US Navy veteran and current international correspondent for the Daily Times Pakistan and has this to say:
"Memorial Day is a time set aside to remember those who have died serving our nation. I contend that in striving for excellence, in seeking to present a professional concert to commemorate the dead we have forgotten a simple truth. The death of the men within our ranks is usually a solitary event. There are no bands playing when they die. What is this haunting sound of the solitude of death? I do not believe that this solitary sound can be adequately conveyed in the National Memorial Day Concert production as it currently stands. There is the need for the one man, the one voice, to step onto the stage and to present with a quiet strength and dignity, that sound of haunting solitude which accompanies the death of our military men. I believe the one thing lacking for the National Memorial Day Concert is that moment in time when one man steps onto the stage to deliver a haunting soliloquy to the solitary nature of death for the military veteran.
"I can think of no better man than James McEachin, to accomplish this task. It is only from within the marrow of the bone that an individual can express such a depth of emotion. As a man who lay dying from his wounds in a river far from home, James McEachin knows the tremendous cost of service. If the crowd disperses without having had the opportunity to consider the immense solitude in death of the American soldier, we will have made light of tremendous sacrifice."
McEachin fans will continue to press on and request that Capital Concerts is contacted by all at: Email info(at)capitalconcerts(dot)org and seanfo2001(at)aol(dot)com, by phone: 202.554.4620 Website: http://www.capitalconcerts.org Address: 499 South Capitol Street, Washington, DC, 20003