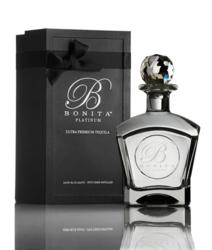 "We are very excited to be a part of this year's festivities," CEO Chris Brown
Louisville, Kentucky (PRWEB) May 01, 2013
Oversized and over the top hats and fancy dresses aren't the only things to make a big splash at this year's Kentucky Derby. The Bonita Sprits Company and their celebrity partner hip hop star, actor, and now emerging entrepreneur Xzibit will turn up their ultra-sleek and luxury top shelf tequila, Bonita Platinum, in this year's gift bags for several high society socialites and celebrities to enjoy. The Kentucky Derby is held on the first Saturday of May each year at the world famous Churchill Downs Racetrack in Louisville, Kentucky. For many professional horse trainers, owners, and jockeys the dreams of racing in the Kentucky Derby is the equivalent of the NFL's Super Bowl which catapults the sport on a platform that has both national and international reach for the world to experience what has come to be known as the fastest two minutes in sports.
"We are very excited to be a part of this year's festivities," stated Bonita Spirits Company, CEO Chris Brown. This year's event will boast a rotund list of major celebrities, professional athletes, and entertainment personalities. Megastars such as Michael Jordan, Tom Brady, Kevin Hart, Angela Bassett, Jennifer Hudson, University of Kentucky's Coach Calipari, Steve Young, Jerry Rice, and a host of others will be the recipients of the gift bags and have an opportunity to sip on the world's only five-times distilled luxury tequila. Bonita Platinum Tequila's Inner Circle (http://bonitaspirits.com/member-page/) hopes to join the ranks of this week's derby champion left standing in this year's Winners Circle as they anticipate hitting it off big with the celebrity attendees. "We are making some major moves. I'm just glad that we've had the type of positive response that we have had from those who've tried the product. I couldn't ask for anything more," states Hip Hop pioneer and celebrity partner Xzibit.
Bonita Tequila first launched in Las Vegas, Nevada in February 2013 and held a star-studded red carpet event at Hyde Bellagio hosted by Xzibit where friends like Dr. Dre and Snoop Dogg attended and helped join in the celebration. Bonita Platinum Tequila has made other appearances in high-profile gift bags such as The GRAMMYs® and OSCARS® gift lounges and on early morning shows such as Good Morning America. Bonita Tequila continues to receive monumental success and will also be featured on the upcoming cover of the Food and Beverage Magazine in their May 2013 which highlights Wines and Spirits. Additionally, the top shelf tequila was also crowned as the Best in the Nation by the publication in the tequila category. The Food and Beverage Magazine is the largest food and beverage publication in the country.
The ultra-premium tequila which is bottled in pure crystal and wrapped in satin will make additional stops and product launches in 33 cities domestically throughout the United States and international expansion to include Canada. Bonita Platinum Tequila will also sponsor EAT! Vancouver which is the largest consumer food show in Canada from May 24th-May 26th. Bonita Tequila can be found in Lee's Liquor stores in Las Vegas or by purchasing directly online at http://www.shopmerwins.com/bonita.html. For interviews regarding Bonita Platinum Tequila or Xzibit, contact Shay Brown of Royal Kingdom PR Agency, Inc. at 901-628-8011 or via email at press(at)royalkingdomagency(dot)com or BonitaSpirits.com/about-2/mediapress/.
###
Xzibit (Alvin Joiner) is a multi-platinum recording artist, actor and television personality, born in Detroit, Michigan, where he began rapping at a young age. He went on to build a solid career with projects alongside such big names as Eminem and Snoop Dogg. Already well-established and critically acclaimed, Xzibit was recruited by famed producer Dr. Dre to join the all-star cast of Dre 2001(1999). An accomplished actor and television host, he can also be seen in films like 8 Mile (2002), Derailed (2005) and XXX: State of the Union (2005). His newest film is Seal Team Six: The Raid on Osama bin Laden.
The Bonita Spirits Company is one of a select group of celebrity owned spirits in the world. The company was founded in 2010 by Chris Brown, a former airline pilot and accomplished entrepreneur. Bonita Platinum is an ultra-premium luxury brand; the world's only five-times distilled tequila. For more information on the Bonita Spirits Company, please visit http://www.bonitaspirits.com