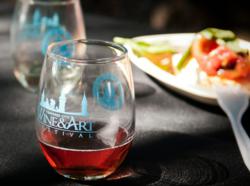 "Guests will partake of a wide array of quality Michigan wines, and they'll get a sampling of the best dishes designed to work with the wines. It's a rare opportunity for people to taste fine food and wine pairings like this all in one swoop."
Leelanau Peninsula, MI (PRWEB) May 01, 2013
The Traverse City Art & Wine Festival introduces its first-ever Winemakers Party on Friday, June 21, 2013 to showcase one of the nation's fastest-growing culinary destinations. Presented by BrittenLocal, this is an unprecedented opportunity to sample regional wines from 22 wineries and gourmet fare from seven of the area's top restaurants.
The Party will be held from 6-9 PM under the big tent on the festival grounds at the Village at Grand Traverse Commons in Traverse City. Attendees can mingle with local winemakers from Leelanau and Old Mission Peninsulas as they each pour a specially selected wine and chat about their wine and the art of winemaking.
As the perfect culinary complement, seven of the area's leading chefs are creating small plates inspired by the wine and fresh local ingredients. The impressive list includes Bistro Fou Fou/La Becasse, Black Star Farms, The Cooks' House, Epicure Catering, Mission Table, The Riverside Inn and Trattoria Stella.
Master Sommelier Claudia Tyagi, one of only 20 women in the world to hold the highest Sommelier credential, will be attending the event to chat with guests about the wines. She describes the region's cool-climate wines as sophisticated, nuanced and versatile that work very well at the table.
"Guests will partake of a wide array of quality Michigan wines," shares Tyagi, "and they'll get a sampling of the best dishes designed to work with the wines. It's a rare opportunity for people to taste fine food and wine pairings like this all in one swoop."
Tickets are $50 per person and includes eight wine tasting tickets and three small plate tickets, with additional plates and pours available.Tickets can be purchased online at http://traversecitywinefestival.com/wp.
Entrance to the Winemakers Party is also included in the Wine Festival Weekend Pass. The cost of the weekend pass is $70 per person and gets you into both the Winemakers Party and the Wine & Art Festival featuring Rodriguez, the Detroit-born singer-songwriter whose powerful story is told in the Oscar-nominated Searching for Sugar Man.
The Winemakers Party is presented by BrittenLocal, a division of Britten, Inc., leading provider of creative production services, event signage and large-format digital printing based in Traverse City, Michigan. Additional support is provided by food sponsor UpNorthLive and wine sponsor Cherry Capital Foods.
Featured wines for the event include:
2 Lads Winery ~ 2011 Rose of Cabernet Franc
Bel Lago Vineyards & Winery ~ 2011 Auxerrois
Black Star Farms ~ 2011 Pinot Noir
Blustone Vineyards ~ 2011 Riesling
Bowers Harbor Vineyards ~ 2011 Riesling, Smokey Hollow
Brengman Brothers ~ 2011 Gewurztraminer
Brys Estate Vineyard & Winery ~ 2011 Pinot Noir
Chateau Chantal ~ 2011 Pinot Gris
Chateau de Leelanau ~ 2011 Bianca
Chateau Fontaine ~ 2011 White Riesling
Chateau Grand Traverse ~ 2011 Lot 49 Riesling
Forty-Five North ~ 2011 Rose of Cabernet Franc
Good Harbor Vineyards ~ 2011 Gruner Veltliner
Gill's Pier Vineyard & Winery ~ 2010 Cabernet Franc / Merlot
Good Neighbor Organic ~ Gewurztraminer
L. Mawby ~ Cremant Classic (en tirage 2009 /degorgement 2011)
Laurentide ~ 2011 Sauvignon Blanc
Leelanau Cellars ~ 2011 Vignoles
Left Foot Charley ~ 2012 Sauvignon Blanc
Northern Natural Winery ~ 2011 Chardonnay
Shady Lane Cellars ~ 2010 Franc 'n' Franc
Verterra Winery ~ 2011 Reserve Red
The menu includes small plates prepared by chefs from regional restaurants:
Bistro Fou/La Becasse
Escargot & ramp risotto
Black Star Farms
Coffee and red wine braised beef short ribs with polenta, chevre, sage and pea shoots
Cooks' House
Northern Indian vegetarian curry with basmati rice
Epicure Catering
Wine poached Lake Michigan trout with smoked butter pesto on herbed barley with pickled local ramps and asparagus
Mission Table
House made grilled merguez sausage on baguette with rouille, Werp Farms rocket arugula, pickled ramps and cucumber
The Riverside Inn
Braised Michigan veal breast on local brioche with house pickled ramps
Trattoria Stella
Grilled focaccia, melted stracchino cheese, heirloom tomatoes, basil, extra virgin olive oil, salt
# # #
The Traverse City Wine & Art Festival is a celebration of the wine and culture of the Traverse City region. The event features the wineries of the Leelanau Peninsula, Old Mission Peninsula and Traverse City paired with the spectacular array of arts this area is home to.
The event is a production of the Leelanau Peninsula Vintners Association (LPVA). The LPVA was formed in 1998 with a goal to help spread the word about all the wonderful things the Leelanau Peninsula has to offer including a growing number of award-winning wineries, excellent restaurants and a rich agricultural history. Today, it is the largest and strongest of the four organized wine trails in Michigan which promote the state's nearly $300 million grape/wine industry.