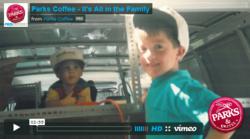 As a family, we're only here to serve others, and we like to make people happy.
Dallas, Texas (PRWEB) May 01, 2013
Parks Coffee (Parks & Co / ProStar Services), a family-owned and -operated office coffee service business, is proud to share its history in a new promotional video, available for viewing on its website, blog and official Vimeo channel.
In its new three minute video entitled "It's All in the Family", company founder Randy Parks and his wife Debbie tell how Parks Coffee began in 1986 out of the family garage in Carrollton, Texas. Randy worked as sales and route delivery man, servicing and stocking customer accounts, while Debbie handled the paperwork and ran a home daycare service.
"We grew one account at a time. We went along and had a small warehouse north of where our properties are now," explains Randy. "We grew into another, and grew into another and then we were fortunate enough to be able to buy a building or two and here we go." In 2011, Randy and Debbie's oldest son Clay Parks has joined on as the company Branding Manager, helping to guide and shape the company in all aspects.
Today, after 27 years of hard work, the Parks Coffee family has grown to 400 employees in six branches, serving businesses in the Dallas/Fort Worth, Houston, San Antonio, Austin, Phoenix and Oklahoma City areas. But even after so much growth, one thing that serves in the forefront is keeping the family atmosphere alive. Corporate Trainer Shayne Dillion says, "When you look at Parks & Co. we're the family, we're the company. It's all of us together."
Parks Coffee (Parks & Co / ProStar Services) is a market leader in the coffee service industry, Parks Coffee provides brand name products such as Starbucks Seattle's Best, FLAVIA, and Keurig. The company has won such awards as National Automatic Merchandising Association's (NAMA) Coffee Service of the Year award, and Parks Coffee Owner/President Randy Parks has been named National Coffee Service Association's (NCSA) Operator of the Year award and the FLAVIA Outstanding Distributor Award.
Media Contact: Beth Seeber, 8008897827, bseeber(at)prostarservices(dot)com