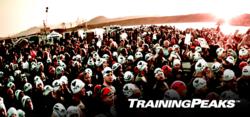 Our partnership with TrainingPeaks allows us the ability to provide athletes with a full training resource that will assist them in their journey from registration to race day.
Tampa, FL (PRWEB) May 01, 2013
IRONMAN is proud to announce TrainingPeaks as the Official Training Software of IRONMAN®. For the next four years, TrainingPeaks will offer its complete web, desktop and mobile tracking, analyzing, and planning system to all IRONMAN triathlon participants to help them achieve their goals - whether it's to complete their first triathlon, or qualify for the IRONMAN® World Championship.
"This sponsorship with IRONMAN has been a long time coming - thousands of our customers already compete in IRONMAN events every year," said TrainingPeaks CEO Gear Fisher. "TrainingPeaks is the ideal software for IRONMAN athletes to track all their training, nutrition and metrics."
"We congratulate every IRONMAN registrant for setting a goal when they sign up for a race - but we know that the hard part is the journey that lies ahead. The long hours on the road, the early morning swim sessions, and just staying motivated to get out there every day is a huge commitment. Most IRONMAN participants are working with a limited amount of time to train. Our technology enables athletes to navigate the entire journey successfully through guidance and accountability. It's a proven system that works - that's why we're so excited to roll it out to all IRONMAN participants. We can help in the process from the moment they commit to this life-changing goal."
Through the sponsorship, all IRONMAN, IRONMAN 70.3® and 5150™ registrants will have the option to get a free basic TrainingPeaks account where they can log their workouts and perform analysis of their training data.
"Our partnership with TrainingPeaks allows us the ability to provide athletes with a full training resource that will assist them in their journey from registration to race day," said Andrew Messick, Chief Executive Officer for World Triathlon Corporation (d/b/a IRONMAN). "We embrace the relationship ahead with TrainingPeaks as we endeavor to improve the athlete experience."
TrainingPeaks will also perform race-day data analysis from some of the top IRONMAN pros for major events, including the IRONMAN World Championship, IRONMAN Asia-Pacific Championship and IRONMAN 70.3 World Championship. Dirk Friel, co-founder and Chief Evangelist at TrainingPeaks said, "We want to use power, heart rate and GPS data from the pros and other age groupers to show all athletes how to race successfully for their own events - as well as educate the general public about the sport." TrainingPeaks analyses will also be featured on IRONMAN Live webcasts.
TrainingPeaks and IRONMAN are officially launching the sponsorship at the IRONMAN 70.3 St. George triathlon on Saturday, May 4, with a kick-off party the preceding Thursday evening to be attended by media, industry and pros, including three-time IRONMAN World Champion Craig Alexander. Alexander himself has used TrainingPeaks to track, analyze and plan his training since 2010. "TrainingPeaks is at the leading edge of science and training, and I have found nothing else compares," said Alexander.
Along with the kick-off event Thursday, TrainingPeaks will be exhibiting at the St. George expo and performing live, race-day power analysis from the top professional athletes. The full analysis, including infographics and screenshots will be available at TrainingPeaks.com/StGeorge as well as IRONMAN Live.
To create and start using your own IRONMAN-branded TrainingPeaks account, visit trainingpeaks.com/affiliates/ironman.aspx.
For more information, please visit http://www.ironman.com and http://www.trainingpeaks.com. Media inquiries for IRONMAN should be directed to media(at)ironman(dot)com; media inquiries for TrainingPeaks should be directed to gloria(at)trainingpeaks(dot)com.
###
About IRONMAN
The iconic IRONMAN® Series of events is the largest participation sports platform in the world. Since the inception of the IRONMAN® brand in 1978, athletes have proven that ANYTHING IS POSSIBLE® by crossing finish lines at the world's most challenging endurance races. Recognized for excellence through distinguished events, world-class athletes and quality products, World Triathlon Corporation (d/b/a IRONMAN), owner and operator of the IRONMAN® Series, has grown from owner of a single race to a global sensation with nearly 190 events across five unique brands: IRONMAN®, IRONMAN 70.3®, 5150™ Triathlon Series, Iron Girl® and IronKids®. For more information, visit http://www.ironman.com.
About TrainingPeaks
Founded in 1999 by athletes and coaches, TrainingPeaks develops industry-leading solutions that enable endurance coaches and athletes to achieve their goals. TrainingPeaks' suite of products include the world's premier web-based fitness training log TrainingPeaks.com, which is accessed online and through iOS and Android applications; desktop analysis software WKO+; and a family of GPS activity tracking apps for iPhones and Androids including Run Tracker Pro, Cycle Tracker Pro and Walk Tracker Pro.
TrainingPeaks customers are in more than 120 countries and include endurance coaches, triathletes, cyclists, runners and swimmers from beginner to elite athletes. More than 90 hardware devices including Garmin, Timex, SRM, Quarq, CycleOps and Polar as well as mobile applications such as Wahoo Fitness, Active Forecast, Digifit®, and Distance Meter are compatible with TrainingPeaks.
TrainingPeaks products are developed and owned by Peaksware, LLC. The company also provides co-branded solutions to manufacturers such as Timex; events such as the Bike MS charity ride series; and publishers including Runner's World, Triathlete and Outside Magazine.
More information can be found at http://www.TrainingPeaks.com and blog.trainingpeaks.com.