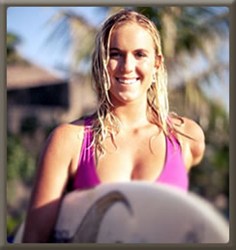 "As a professional athlete and health conscious person, Righteously Raw is my favorite treat after an active day in the ocean, adventuring, or working out!"
San Diego, CA (PRWEB) May 01, 2013
The world famous Soul Surfer Bethany Hamilton is the latest professional athlete to gush about the amazing taste and health benefits of Earth Source Organics' line of superfood treats, Righteously Raw Chocolate. Bethany's touching story of survival, perseverance, and her impressive surfing career serve as an inspiration to people all over the world. As an athlete, author, and public speaker, she encourages others to live active, healthy, and happy lifestyles.
Being an athlete means understanding the importance of fueling the body with only the best ingredients, and as a self-professed "huge fan" of Righteously Raw chocolates, Bethany includes her favorite Maca Bar as part of living a healthy lifestyle. "I love to live healthy and treat myself to a sweet every now and then," she says. "As a professional athlete and health conscious person, Righteously Raw is my favorite treat after an active day in the ocean, adventuring, or working out!"
Raw cacao is well known for its antioxidant and mineral rich properties that help promote cardiovascular health and protect against toxins. Each Righteously Raw chocolate bar is made with raw cacao plus other superfood ingredients such as açaí and goji, making them an ideal complement to a balanced, nutritious diet and regular physical activity.
Earth Source Organics manufactures their Righteously Raw product line in a certified organic facility free from nine major allergens. As a company dedicated to the health and well-being of their customers, Earth Source Organics states, "Bethany is an inspiration to all who know her. The way she carries herself with such an awesome strength and grace after a life-altering event is nothing short of amazing. We are extremely thrilled that Bethany loves Righteously Raw Chocolate and our number one selling Maca Bar."
Righteously Raw Products can be found across the nation at over 1,300 health food stores and wellness locations. All products are made with pure, raw ingredients rich in antioxidants and essential nutrients and sweetened with naturally occurring, low glycemic sweeteners.
About Righteously Raw Chocolates:
Righteously Raw is the gourmet chocolate brand of the certified organic food manufacturing company Earth Source Organics. Based in Southern California, this company is on a mission to provide organic and delicious foods to its customers to help them lead happy, healthy lives. Earth Source Organics is also the proud distributor of Vigilant Eats Gluten-Free Cereal. For more information, please visit http://www.righteouslyrawchocolate.com.
To learn more about the many endorsements of Righteously Raw Chocolates, please contact Audrey Darrow at (760) 734-1867 or [email protected]