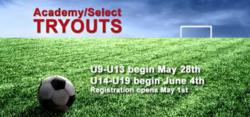 Skills on the fields means skills for life!
Dawsonville, GA (PRWEB) May 06, 2013
United FA is excited to announce the upcoming tryouts for Academy and Select Soccer tryouts for Dawson County. The club is the second largest youth soccer organization in Georgia. They also work with GUSA (Georgia United Soccer Alliance); United FA has been given the opportunity to compete in the United States Soccer Development Academy. "The upcoming tryouts provides the opportunity for new youth to join their club to play competitive soccer and gain valuable life skills at the same time," says Matt Newman, Director for Dawson County. "The club has several opening spots on various teams and hopes for a large turnout," adds Newman.
Tryouts for the 2013-2014 seasons will be held on the following days. Players are strongly encouraged to attend both sessions for their age group.
U9-U12 Academy and U13 Select: May 28th and 29th
U9 to U13 - Time: 5:30-7:00 PM
U14-U19 Select: June 4th and 5th
U14 to U19 - Time: 6:00-7:30 PM
Tryouts will be held at Rock Creek Park
Academy: Field #2
Select: Field #3
Please Note: United FA is at the same time holding other local tryouts in the counties of Forsyth and Lumpkin as well. Just check their site for complete information about tryout information for these counties. Just follow this link: North Georgia Soccer Tryouts.
Volunteer positions needed for Dawson County:

Hand out and collection of fundraiser promotional items
Goal and net maintenance and repair
General clean up and put up of flags at end of last game
Spiritwear
Handout of Uniform
United Futbol Academy-Dawson offers great soccer options for players of all ages and abilities. Besides academy and select program, the club has recreation programs for youth to enjoy. In fact this summer the club will be hosting summer camps that are instructional and have fun competitions daily. Visit their website to learn more about summer soccer camps in Georgia.
Facts about UFA:

Second largest soccer club in the state of Georgia
Offer teams for U4-Adult, offer Speed & Agility, Keeper, and Technical Skills Training
ODP (Olympic Development Program)- South Forsyth Soccer Complex has been chosen as the training location for ODP teams
GUSA (Georgia United Soccer Alliance)- Our organization has been given the opportunity to compete in the United States Soccer Development Academy
If you would like to learn more about United FA Soccer Programs please visit their site at http://www.unitedfa.org/.
The release was sponsored in part by John Megel Chevrolet and SleeveCo. These two local Dawsonville businesses have decided to help sponsor United FA to help enrich the lives of those in their community.