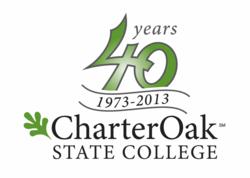 New Britain, CT (PRWEB) May 03, 2013
Charter Oak State College is pleased to announce that its 2013 commencement ceremony will take place on Sunday, June 2, 2013 at 1:30 p.m. in Welte Auditorium at Central Connecticut State University in New Britain, CT. Approximately 500 students will comprise the Class of 2013, with 150 attending the ceremony. A live webcast of the ceremony will be hosted on CharterOak.edu.
Founded in 1973, Charter Oak State College is Connecticut's only public online college, offering associate and bachelor's degree completion programs in high-demand fields including Health Care Administration, Public Safety Administration, Business Administration, Information Systems and more. Charter Oak students complete degree program through online courses and alternative approaches to earning credit. Charter Oak is accredited by the New England Association of Schools and Colleges and governed by Connecticut's Board of Regents for Higher Education. The College is celebrating its 40th anniversary this year.
Degrees Without Boundaries
55 Paul J. Manafort Drive, New Britain, CT 06053-2150 • http://www.CharterOak.edu • (860) 515-3800