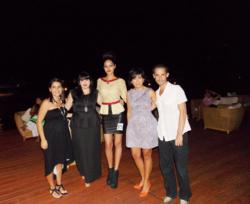 Cancun, Q. Roo (PRWEB) May 06, 2013
Sunset Admiral Yacht Club & Marina played host to the Prêt-a-porter a la Haute Couture fashion show. Organized by the Instituto Superior de Estudios Creativos in celebration of Designers' Week, the event showcased the latest and most innovative fashion trends.
Sunset Marina Resort brought together 300 attendees to admire 50 innovative felt creations inspired by gastronomic dishes. In front of media personalities, their families and members of the press, the students of this institute's fashion design program presented their garments on the catwalk.
Designers' Week is a biannual event organized by the Instituto Superior de Estudios Creativos to motivate its students to present experimental designs using alternative materials, thus permitting the up-and-coming designers to develop non-linear creative processes that can later fuse traditional machining together with new technologies.
Last November's presentation of PET dresses at Malecón Cancún in collaboration with Agua Cristal, the Iconic Women event in March, 2012, with the presence of ex-Miss Universe Lupita Jones, among others, and the Catrinas de Papel catwalk, held at Plaza Kukulcán with the support of Luxury Avenue, are just a few of the more important fashion shows organized by the institute.
The primary mission of the Instituto Superior de Estudios Creativos is to promote culture, art and design in its contemporary manifestations.
"Whereas others consume, the designer CREATES. Because the designer generates and transforms trends and lifestyles, his or her work goes beyond the simple elaboration of products," explains the institute.
"In order to do so, the designer must possess a deep understanding and great skills to be able to correctly interpret the reality in which we live so that the work or creations are not only accepted but required by their target market."