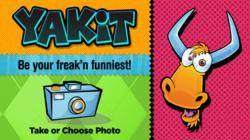 Quickly turn any photo into a hilarious video message to spice up a conversation.
Seattle, WA (PRWEB) May 01, 2013
Seattle TechStars company, Freak'n Genius, announced the release of YAKiT, a free video-message making iOS App. YAKiT is a quick, simple, and fun tool for creating short video messages that bring hilarity, laughter and creativity to any conversation. Think JibJab meets text messaging.
Check out the quick demo video here: http://youtu.be/aTnNZ2GZRXU
The app allows users to choose a photo from their camera library or, from within the app they can directly search the internet or Facebook to find the perfect picture. They can also take a picture with the built-in camera. Once they have selected a picture, the user will be guided to quickly highlight a mouth. Then as they record a short message, their photo will be brought to life as they move the mouth to the audio. For example, if the user chose a picture of Grumpy Cat from the Web Photo Search, they would identify Grumpy's mouth, and in the Record screen, they would make Grumpy's mouth move to make him say some snarky comment.
The user will be brought to the playback screen where they can view their YAK (or video) and send it to a friend via text, email, twitter, or post it directly to a friend's Facebook wall. From the playback screen, there are options to change the video if the user decides their YAK isn't quite ready to be released into the wild. They can change the mouth shape if the alignment was off or re-record if their giggling drowned out their actual message. They can also adjust the pitch of the audio to really give their video that LOL-factor - making their BFF sound like a man or their crush sound like a chipmunk.
Whether or not these videos are meant for prime time, they work really well when users send them back and forth through text or other messaging platforms. These days, most young people have their cell phones on them 24/7, sending an average of 60 text messages per day. The high usage of emojis and photos demonstrates that people need more personality, creativity, and emotion in their messages. YAKiT taps that in an entirely new way.
"Our team gets really excited each time we see someone explode in laughter and try to top the video-message they received," said Freak'n Genius Founder & CEO, Kyle Kesterson. "In those shared moments of sentimental comedy, relationships are strengthened, and their sense of humor and creativity can be validated. It's energizing for Freak'n Genius to continue delivering on a vision of helping people around us feel connected and empowered, while making our devices further form to us, not the other way around."
YAKiT is available today in the iTunes App Store. As it gains momentum, you can be sure to see this making its way to other popular devices. YAKiT is already prototyped for Google Glass.
About Freak'n Genius
Freak'n Genius is a Seattle-based TechStars company working to bring people closer together through creativity, humor, fun, and technology. As graduates of the Microsoft Kinect Accelerator, powered by TechStars, and the REACTOR Accelerator, hosted by the Washington Interactive Network, their mission using creativity and technology started on the Kinect and has since been refocused to mobile with the launch of their first iOS app.
Founded in 2011 during a Startup Weekend event, Freak'n Genius has raised over $500k from a group of Angel investors after walking away from an early acquisition offer. The company is led by serial-entrepreneur Kyle Kesterson, who was Seattle 2.0's "Startup Designer of the Year" 2011, and this year's nominee for GeekWire's "Young Entrepreneur of the Year".
Visit our website for more information – http://freakngenius.com
Like us on Facebook – https://www.facebook.com/freakngeniusinc
Follow us on Twitter – http://twitter.com/freakgenius
iOS App Store – https://itunes.apple.com/us/app/yakit/id634537542?ls=1&mt=8